It is December 5, and for some reason, only now did it occur to me to investigate whether all that superfluous November posting had managed to win me
a prize
. As you might imagine, it did not.
So no
turkey painting
to find a place for on my walls. No free psychic or Tarot card reading for me. No
herbal tea sampler
,
sock monkey
,
gourmet jelly
, or
"I fuck like a girl" t-shirt
will be making its way to my home.
On the up side, I
have
earned the right to place this lovely and festive banner here for all of you to admire. So there is that, anyway, I suppose.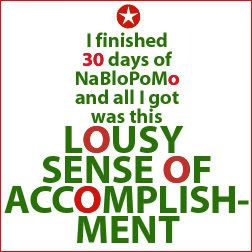 Whoo!