You may recall I'm on a bit of
a mission
at the moment--a mission to bring some semblance of order and organization to my house, to find a home for all the stray bits and pieces that sit in cluttered piles in my office or kitchen or bedroom simply because I've neglected to find any better place to put them. I'm also trying to thwart the pack-rat gene and purge the things taking up space in my surroundings for no good reason. It's not even just the usual suspects--the brown dress shoes in my closet that I'm certain I'll never wear again or the CDs I haven't listened to since the week I bought them. No, it's also the little things--the bits of lint from my life that I didn't even know I still had.
Case in point: while cleaning out the decorative box in which I keep stationery and spare cards and such, I found not just the pads of Mickey Mouse and Garfield paper that I will surely never find cause to use; I also found a name and phone number scribbled on a piece of scratch paper from lord only knows how long ago.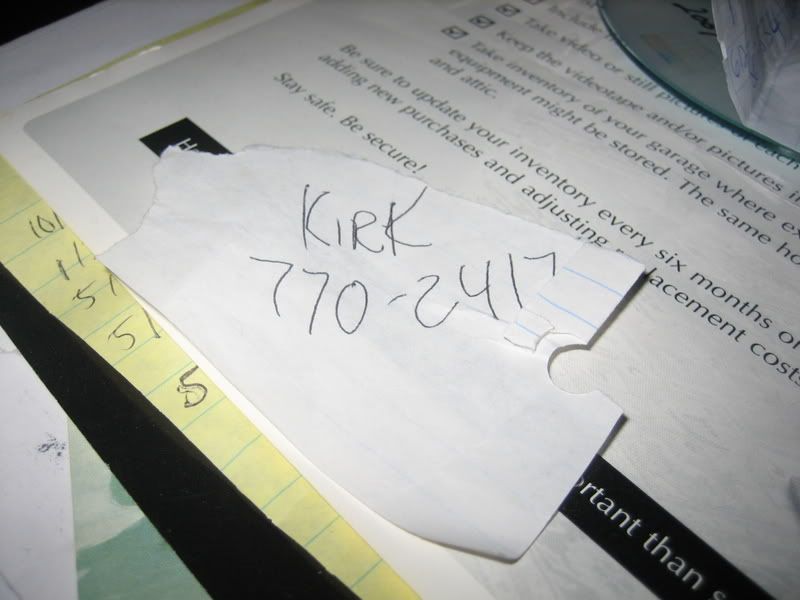 Because my mind is like a steel trap for the things I'll never need to recall (and like a sieve for the things it would actually be useful to remember), it actually took only several seconds for me to remember who Kirk was. Kirk was a guy I worked with shortly after I moved to the Twin Cities (a full ten years ago at this point--back when we had only one area code instead of four and therefore a seven-digit phone number was actually useful). Kirk was, by nearly all definitions, an idiot. I had nothing in common with him save the same mail stop address in our building. But I also had few friends in town (at work or otherwise), and since I had rarely been mistaken for pretty or popular at that point in my life, the attention he paid me was fairly new. I went to lunch with him a couple of times... I don't remember where we went, but I do remember that he tried to impress me by popping into his CD player a supposedly
brand new band
he was into at the moment (a band that had already been receiving loads of radio play for months... you may have heard
their big hit
a thousand times or so).
I never called Kirk (never even had any
intention
of calling him), so I cannot explain why his phone number came with me from apartment to apartment to apartment to current house. It's in my recycling bin now, but just the fact that I unknowingly held onto that scrap of paper for so long made the amateur archivist in me pause at least a second or two before I tossed it.
I can't explain where it comes from--this need to save the unimportant or useless. But then again, maybe I can. It's that aforementioned pack-rat gene, of course.
My grandma has been in a nursing home since shortly after
her stroke
, and since it doesn't look likely she'll return to her own house, my mom and little sister have been preemptively cleaning and organizing the place a little bit. Recently my sister sent me an online album of photos--various still lifes and objects around my grandma's house. Looking through those photos, I had one of those enlightening, self-awareness-building moments, an "it all makes sense now" light bulb of "Oh yeah--
this
is where I came from."
I know now that writing reminder notes to oneself must be hereditary (even if I haven't resorted to "Lights off; lock door" reminders just yet).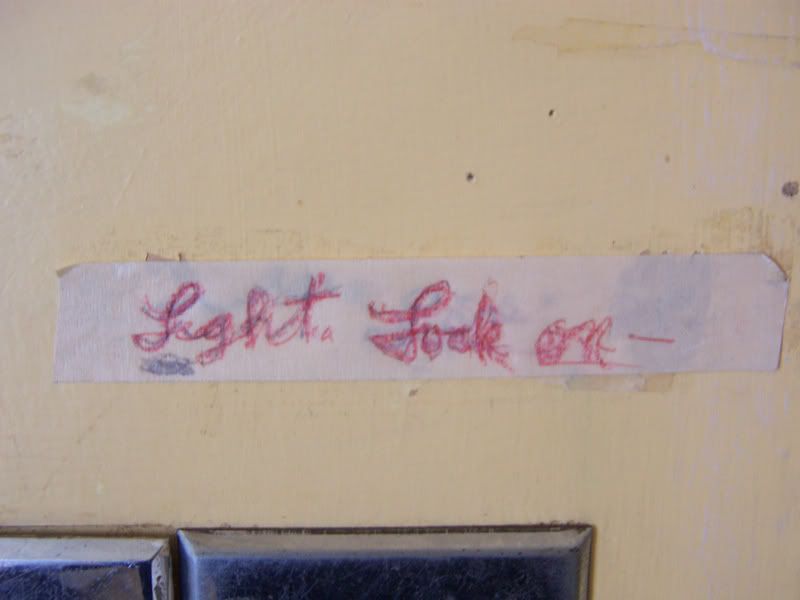 ...as is the hope of saving the possibly unsaveable. I still have, for some reason, the
tie-on towel
I was unable to replace; my grandma still has a pile of stained, old towels she was unable to get clean.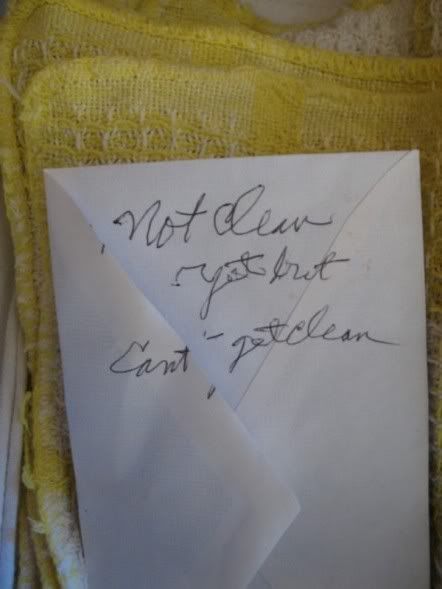 And those too-tight and also hopelessly out of style brown shoes in my closet? My grandma holds on to that sort of thing as well. At least I haven't labeled my old brown shoes "too tight." Also, I know how to spell "waist." Yay for that, anyway.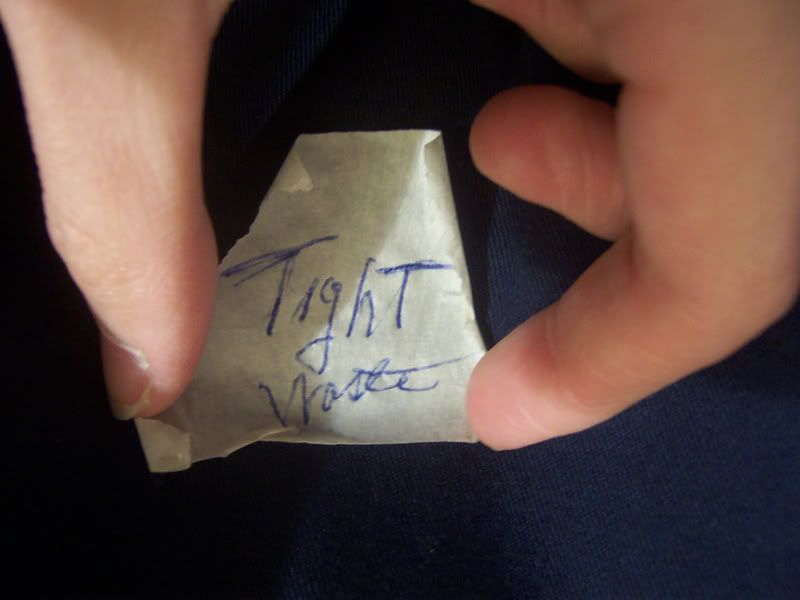 Hands down my favorite photo in the collection, though, came from my grandma's freezer. What do you do when you open a can that you hope is peas, only to find lima beans instead? Well, obviously, you freeze them in Tupperware to annoy yourself for all eternity, with a note in permanent marker on the lid: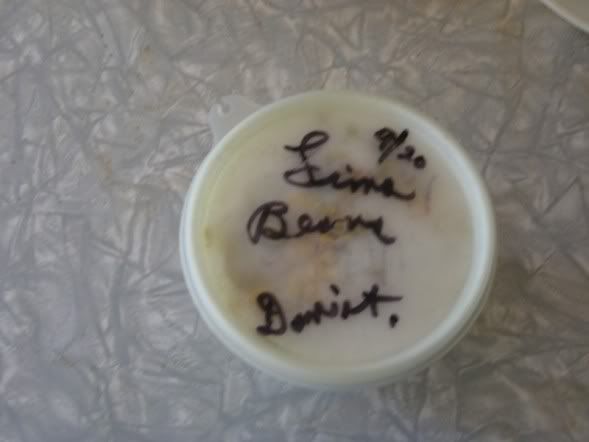 In case you can't read that, it says, "Lima Beans. Dammit."
Sweet Jesus, I love that crazy old broad.