I've
written before
about my little sister's eBay addiction. Each time she sends me a link to some bizarre item, she swears she found it by innocently looking for some entirely unrelated item, but I'm not convinced. I'm fairly certain she's simply amusing herself by making a game of finding the most absurd things available online. It's some odd and twisted scavenger hunt she's on, I'm sure. There's probably a whole group of people like her in some chat room or Yahoo! group somewhere, all battling each other to be the first to find that jump rope made of human hair or the rag doll that the seller swears fills the ice trays for him while he sleeps at night.
Today I hope my sister won the hunt. Because today, she sent me a fabulous item: a "
Japanese raccoon dog garden/yard step
" titled "The plinth of a raccoon dog." Here. I'll add a picture so you can enjoy it even months from now, when the eBay listing is dead.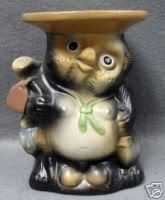 I don't know what a raccoon dog is, but I have to agree with my sister that this little guy "looks more like an owl with nipples than either a raccoon or a dog." The poor little dude has a Buddha torso. Maybe you're meant to rub him for luck. And he's either in beauty pageant training or is graduating; I don't know how else to explain the book or mortar board atop his head. I suppose it is the "step" part of the raccoon dog "garden/yard step," but as the figure is, by my estimations, no bigger than a Smurf (not to mention made of porcelain), I can't imagine his head is a particularly sturdy place to step.
If you haven't yet clicked through to check out the
listing
, be sure to do so, while it's still there. Go ahead... I'll wait...
Note that there are 30 available, so there's no need for us all to fight over him. Unfortunately, as he ships from Japan, it might be a bit pricey to arrange delivery by Christmas.
I think what won me over, however, was the description. After all, "It is how to the accent of your yard"! And "A mailing cost will become cheap if it collects"! You can't argue with that, now can you?