So then. I went for that massage
you all encouraged me to get
. Tell me: why in my head was I assuming the massage therapist I might cry in front of would be a woman? I don't know. Probably because the one and only other time I got a massage, it was a tiny, tiny blonde woman who administered it. In movies, of course, massages are always given by suave, impossibly good-looking and exotic men named Jean-Luc or Eduardo, but I know enough to know that movies are not real life; hence, tiny blonde woman was the reference point I had in mind.
Instead, when the door to the reception area opened and I heard my name called, the person standing there waiting for me was a giant black man. Now, I don't mean "giant" as in burly and menacing. More like "giant" as in portly. Rotund. Also, middle-aged. Giant middle-aged black man was somehow not the profile I had in mind when I imagined getting nearly naked for a stranger this evening. But hey, I can adjust. Right?
Right?
Sure.
I think the giant middle-aged black man was on to me, however. Our introduction went something like this:
Him:

Hello, Stefanie. My name is Giant Middle-Aged Black Man. I'll be your massage therapist today.


Me:

Oh. [...] OK.
I am nothing if not subtle. I am tremendous with the poker face. Oy.
As he walked me back to the massage room, I rationalized my possibly sexist and/or racist unease. It's not just a massage thing; I'm mildly unsettled at the thought of a male gynecologist as well! Why is it I prefer that the people who get up close and personal with my lady parts just for sport be male, but the ones who are in the area on business be female? Puzzling.
I realized I was being ridiculous, of course. The giant black man was a professional. Nothing unseemly or inappropriate was going to happen in that room. Still, in my head, the phrase "Giant black man" played over and over, growing ever more amusing in its inappropriateness each time. My inner monologue went something like this, in fact.
Giant black man. I am getting massaged by a giant black man. I am a mostly straight-laced snow-white girl in a

Midwestern

suburban strip mall, and I am on a table nearly naked beside a giant black man. How seemingly scandalous. (In a 1950s June Cleaver way.)

I cannot believe I keep saying "Giant black man." What if he can read my mind? What if he can hear my thoughts, like Edward in those crazy "Twilight" books? Or Mel Gibson in that terrible movie with Helen Hunt?

Hmm. Mel Gibson, or Edward the vampire? Which one is less creepy to imagine while naked? Edward is supposed to be impossibly beautiful... Also, however, he is seventeen. And a vampire. But Mel Gibson? I'm gonna have to say that one is worse.

Great. Now I am thinking about vampires. Why am I thinking about vampires during a massage? At least I'm not thinking about the giant black man. Giant black man. Giant black man. OK. Vampires.

I should think of something completely different. Something nice. Neutral. Pleasant. Meadows! I'll think about a meadow.

Great. Now if the giant black man can hear my thoughts, he's wondering why I'm thinking about a meadow. Why is a meadow the go-to tranquility and safety place? When was the last time I was ever actually IN a meadow? Would I even feel safe and tranquil in one?

I suppose it depends where the meadow is. Maybe it's Edward's meadow. Ooh. The meadow with scary Laurent. Great. Now I'm thinking about vampires again. Get OUT OF MY HEAD, crazy Mormon vampires! Out of my head, I say!

What am I SUPPOSED to be thinking about during a massage, anyway? Does anyone else think about whether what they're thinking about is appropriate when a stranger is rubbing them down?



[Note: Overshare ahead]

This is just like when I'm on the receiving end of [two words I can't bear to type on the Internet]. Why can't I just be in the moment instead of thinking about whether I'm reacting correctly to the moment? And damn. Now I'm thinking about [words I can't bear to type on the Internet]. The giant black man and [words I can't bear to type on the Internet]. I do not want to think about the giant middle-aged black man and [words I can't bear to type on the Internet].

What book was it where the main character transcribed her full thought process during [words I can't bear to type on the Internet]? "PopCo"? No. "Calamity Physics"? No, that wasn't it. It was something with a high school girl, though... "Prep"! It was "Prep." I totally related to that part.

Is it normal to think about books while getting a naked rub-down? I suppose it's better than thinking about work. Should I be thinking about work?? No. I'm pretty sure work is the last thing I should be thinking about right now. Well. Second-last thing. [Words I can't bear to type on the Internet] slides in behind that.

Why was I so wary of the giant middle-aged black man, anyway? See? He's doing a perfectly OK job. Friendly. Professional. Not at all creepy. He's like a big giant teddy bear. OK, not a teddy bear. But maybe like a character of some sort. He's someone I do not know in my daily life at all, and isn't that the best option, really? I mean, if he had been Greasy Middle Aged White Guy with a Comb-Over, I'd be thinking about my co-workers, and I'm pretty sure THAT would be far, far, far worse. Great. Now I'm thinking of Milton from "Office Space." Why am I thinking about Milton from "Office Space"? No one I work with looks anything like Milton from "Office Space." Man, am I glad Giant Black Man isn't Milton from "Office Space."

I think that was about the point where I realized I was not-so-live blogging this, and I decided it was best to work my very hardest to zone out before I instead asked the giant middle-aged black man for a pen and paper to take notes.
In all, I'm not so sure it was a fantastic massage, not that I have a whole lot to compare it to. The tiny, tiny blonde woman was only a student and yet I remember feeling more drunk-with-relaxation then than I did tonight, but I suppose I'd need to try this experience more than twice to have any sort of objective baseline.
So. In summary, I might be a sexist and possibly racist massage client, but I am happy to acknowledge it when I've seen the error of my ways. This is what I have learned this week. What else have I learned? Oh yes. That children apparently don't fear me. In fact, some of them even
like
me. In the past week, after all, the following transpired:
A three-year-old I had only just met toddled over of her own volition to hug me goodbye. "Wow. She

never

does that," her mother said. "She's usually shies away from people she doesn't know well."


The father of a one-and-a-half-year-old who repeatedly brought me his toys to share looked at me and said, "That's what they call a

Natural."

Um, me? A "Natural"? With children? I doubt it.

and finally...


I learned that the eight-year-old who only recently upgraded me from a friend of her mom's who she barely remembers to "The one with the glasses" has since not only learned my name but has decided she's excited to see me again, too. Last week I went to her house for a periodic gathering with my married suburbanite friends and learned that this child had apparently asked all week "Is Stefanie coming?" When I walked in the door, she hugged me. I have known the child since she was born, and she has never hugged me before. She hugged me again four more times before I left, and asked, "When are you coming over again??" And when she and an equally small friend came into the room and observed me knitting the socks I mentioned previously, she beamed with weird pride by association when the friend exclaimed, "Woah. You're really good!" The dual sets of circular needles can look impressive, I guess. I just didn't realize eight-year-olds would see it as such.

That same eight-year-old came to my house with her family last night--part of the gathering of grown-ups with giant houses whom I felt compelled to tidy up for earlier this week. She and another friend's daughter are in the same day care (their day care provider is my eight-year-old admirer's mom), and apparently I was an unexpectedly popular topic at day care all week. "We get to go to Stefanie's house on Thursday!" they kept saying. They both made me presents as well.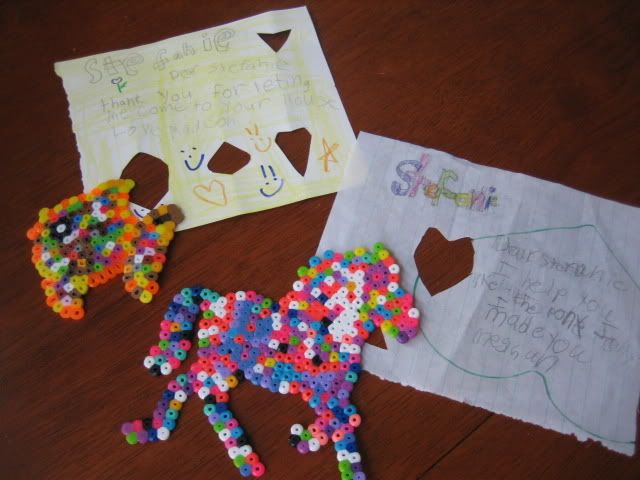 I have no idea where this sudden popularity with the little people came from, but I promise it won't go to my head. Kids are a fickle bunch, I know, so I don't expect the displaced worshiping will last. Then again, it IS the
Year of Stef
. I just can't say this sort of attention is exactly what I had in mind.