I know I've been light on the stories and heavy on the lists and assorted what-not lately. Fear not. As of this afternoon, I am officially back on the online dating market, which means I'm sure I'll have plenty of pathetic tales about awkward social encounters and improperly punctuated e-mail messages soon enough. Meanwhile, I thought I would pretend for just a minute that I am a domestic type girl with the traditionally valued lady-like skills and that this blog is aimed at showcasing my handiwork.
Really I just need to show more than the four people who've seen it already the lovely afghan that I finally (finally,
finally
) finished... a mere four months after
the wedding
for which it is a gift. Check it out. I made this. Out of two sticks and a whole lot of yarn. Aren't you impressed? Oh, come on. Humor me. That sucker took
ages
to make.
(You can click for larger, by the way. If I'm going to subject the Internet to my braggery, you might as well see the focus of my bragging in detail.)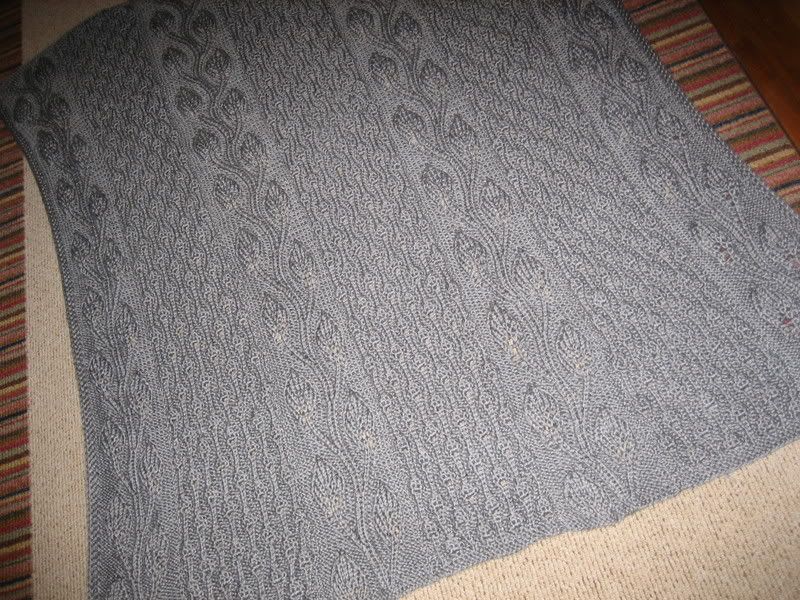 And while I'm pretending to be Martha Stewart, I thought I would tell you all that I
used my oven
tonight. No, really! And not even for a Freschetta pizza or the frozen egg rolls and cream cheese puffs of which I am recently so fond. No, I made what I'd quite possibly consider a real and proper meal, using fresh, antibiotic-free chicken and something actually resembling a full-fledged recipe. OK, so the mashed potatoes are from a box and the photo looks like some weird steaming turd next to a blob of white, but I assure you, my pesto chicken roll was quite tasty.
The recipe, by the way, came from
Metalia
, who read Resolution #2 in my
New Year's post
and decided to try to help out my laughable,
non-cooking self
by sending me a few quick and easy meal ideas. I've said it before and I'll say it again: sweet Lord I love the Internet. Where else would I find strangers willing to provide
landscape designs
for my yard,
pimp for dates
for me, send me
cool music
,
and
make sure I'm eating properly? My, but you people are helpful and awesome. You are the proverbial bomb.