I finally got around to adding an "I did it" NaBlo badge to my sidebar, and I cannot tell you how excited I was to find a Mary Tyler Moore badge as an option.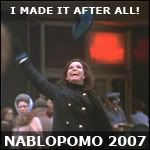 I think sometimes about adding a tag line to my blog header, but I've resisted thus far because 1) Tag lines are for more clever people and 2) Given that my blog is named "Stefanie Says," any tag line that follows would sound like I'm making a direct quote. (I am a nerd. I overthink these sorts of things.)
Anyway, if I
were
a tag line sort of girl, surely by now I would have used "Like Mary Tyler Moore, but without the great legs and anachronistic gender roles." But then, since I am one of only five people in my generation to appreciate MTM, I would also be the only one to get that line. So. No tag line for me. But I do love my new NaBloPoMo badge anyway.
OK. Seriously. Must pack now. Later, all.