Is it really Sunday night already? How did that happen? More important, is it really only four days until Christmas? Tell me, is my house the only one subject to time warps, or do you guys have that problem as well?
First, let's review what I
did
do this weekend. I
did
manage to...
Clean and ready my house for a Christmas party last night.
Shovel six inches of snow.
Host a holiday party for several of my friends.
Get pictures from said party online within 24 hours of the event.
Write my Christmas cards.
Eat my weight in guacamole and layer bars.

What I
didn't
do, however, was everything else on my list, including wrap my family's Christmas gifts, pack for my trip home this week, and answer the several neglected emails waiting in my Inbox. Oh. Also, I did not hear from the aforementioned
Bachelor #3
, despite that aforementioned last-date-of-the-year being, from my perspective, one of my best dates of the year.
That's right, folks; you heard me. I had a GOOD DATE. Or, I
thought
I did, anyway. Apparently either the two of us were on entirely different dates or my instincts are way, way off. It is frustrating and more than a bit disheartening and frankly I have little more I want to say about it than that. I actually
liked
this one, people. Really. I don't even know what to do with myself over that.
So it seems I will be ending 2008 just as I began it, which I suppose is fine, really. The single life usually agrees with me anyway. I have my own space and make my own schedule, and I celebrated my singlehood today by sending not at all husband-friendly pretty pink and brown glittery Christmas cards. I am now covered in glitter, as is my kitchen table, but all that sparkling should only serve to get me in the holiday spirit, don't you think?
But back to my party. It was a warm and festive evening in my cold but charming basement, and I think I can confidently say that a lovely time was had by most. Menu props go to The Pioneer Woman, who (unlike Bachelor #3) has yet to let me down thus far. I made her
goat cheese with fresh dill and paprika rolls
(which were fine but actually taste much better when the goat cheese you pay $10 for actually tastes like goat cheese and not like strangely tough Brie) and also her spicy molasses cookies, which happily were a much greater success than the unintentionally rock-hard molasses cookies I tried to make last year. Also, if you read
Mighty Girl's post
a few weeks ago and wondered, "Should I really put pears and pomegranate in my
guacamole
?" the answer is YES. Yes you should. I love avocado in nearly any form, but never has guacamole been so delicious.
Also, I received several excellent presents from my fabulous friends, including a knitting book with at least twelve patterns I want to make immediately, a lovely blue glass necklace, and a pair of knit wrist warmers that are much more awesome than the pair I was never going to get around to knitting myself. I am currently typing away in toasty-knuckled comfort just like a modern, techno-savvy urban hobo. Yay!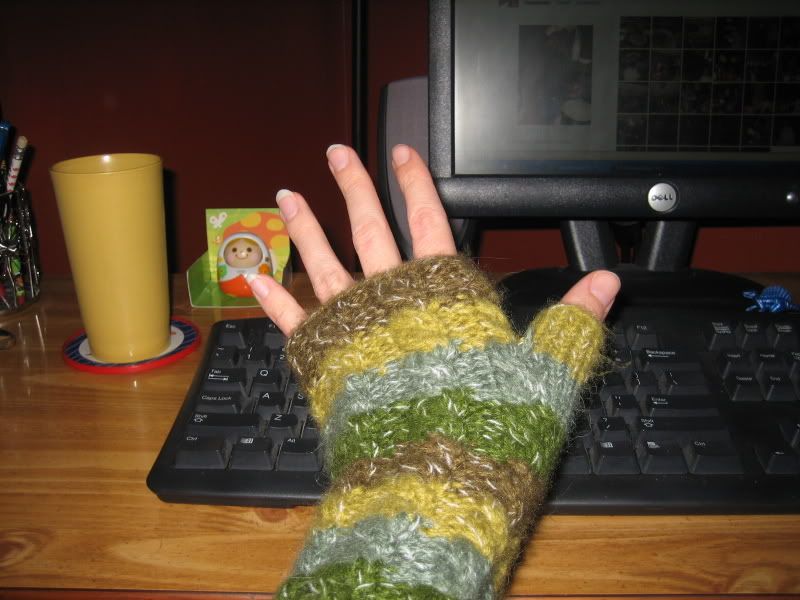 And with that, I'd best shut down and get some sleep, as the few hours I got after the last of my guests left in the partying-like-a-rock-star wee hours of the morning simply did not suffice. I'm looking forward to two short weeks in a row before the drudgery of January, with its gray bleak days and its cruelly long five-day work weeks, begins. If you are already on vacation until 2009, kindly suck it. I kid, I kid. That wasn't particularly warm-hearted and holiday-minded of me. Happy Christmas week, all.