Hey strangers. Remember me? It feels like ages since I last posted, when in fact it was all of two days ago. NaBloPoMo will mess with your head that way. NaBlo will mess with your head and STILL give you no prizes. Third time's a charm? Not for this lady. I demand a recount on this "Year of Stef" business. I'm pretty sure this was actually someone else's year instead. Can I have another go in '09? No? I have to wait my turn again? Bollocks.
So. Given how quickly I lost steam and grew tired of
my theme
, you would think I would be DONE writing about dating for quite some time. Alas, you would be wrong, because waiting in my Inbox this morning was a wink from
this
fine gentleman!
Focus for a minute on the small strip of gray below his belt buckle and tell me what you see.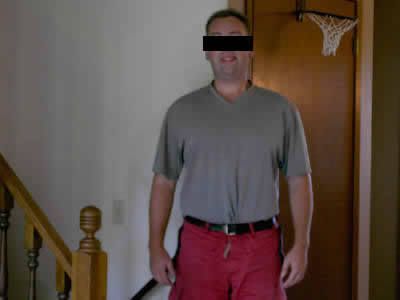 So? What say you? Has this grown man's mother sewed his name upon his pants, but overzealously placed the tag
outside
of his waistband rather than in? Is he wearing the Z. Cavariccis that he bought in 11th grade and the label is just a bit askew? Or did this man actually post on his Internet dating profile a picture in which his shirt is sticking out the fly of his pants?
I think you know my vote. I think you also know I love any excuse for
a poll
. Let's play!
It really is a wonder I'm still single; is it not?