Well now see that? There I go again. Has it been a week already? Let's see. What have I done in the past several days, aside from not click that "New Post" button, obviously? Well, I attended two parties, one decidedly fabulous and the other not quite so much. One was a
New Year's Eve party
hosted by my good friend
Carrie
and financed by
Food Buzz
. (What's better than a party with all your friends? A party with all your friends, paid for by someone else!) The other was a retirement party for my mother, a potluck affair held in the basement of my parents' church. Are you having trouble guessing which one was the more fabulous affair? Well good, because even though as far as I know, my parents will never read this, I still feel a wee bit guilty implying that party wasn't the event of the year. No offense to my mother or her fellow parishioners, of course. But when you consider that one event involved well-crafted cocktails with specialty infused vodka and the other involved driving 11 hours round-trip on ice-covered roads (a mere week after making that same trip for Christmas, mind you), I don't think a fair comparison is possible.
What else have I done? Well, I finished my friend Lisa's baby shower gift, six full days before the shower. This might not be notable, if not for the decidedly weak track record I've built where hand-made gifts are concerned. Lisa and her husband's
wedding afghan
, for instance? Presented three and a half months after the ceremony. My friend Carrie's felted messenger bag? Still sitting on my dryer, lining-less and strap-less, four long months after her birthday. Oh, and then there's the pair of socks a dear friend who no longer reads this blog requested when I first told him I learned to knit socks. He does not know that he's still getting them, but I assure you, they are on the needles and are now half-done. He should receive them just in time to pack them for his move back to LA. As in, California. You know, where
wool
socks are totally useful. Sigh. Photos of Lisa's baby shower gift will be in
this Flickr set
shortly, by the way. Can't go ruining the surprise on the off chance that she actually pops in here in the next few days. I promise you, though, it is adorable. Lisa, you damn well better like it, I say.
Speaking of baby showers and wedding gifts and the like, our friend Flurrious has
a cause
I need to get behind. Well, actually, her cause labels me middle-aged and aims, primarily, to get herself a free Prius, but as usual, I am taking the idea and running with it in a way more beneficial to ME. What cause is this? I'll let the badge Flurrious created for us tell you.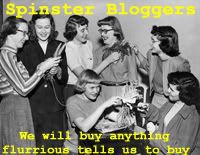 As it turns out, I'm not so much riddled with the expendable income, making me maybe not the best target for Toyota's future Flurrious-centered marketing campaign. I would, however, like free stuff. While I know that showering the mergers and the breeders with gifts is a social convention it's not up to me to unseat, I can't help feeling a wee bit cheated when I add up all the bridal shower gifts and wedding gifts and baby gifts I've purchased for all my married friends over the years with no hope of gift reciprocity in return. I love these friends dearly, of course, but when will somebody throw
me
a party to celebrate my life path? When do
I
get to create a registry at Target and Crate & Barrel to replace my worn linens and warped skillets and finally acquire a damn crock pot? Mark my words, friends. The spinster shower and gift registry is an idea whose time has come. Yes, yes, I realize it is an idea whose time came when Carrie Bradshaw mentioned it somewhere around nine years ago, but my life is feeling more and more like a bad, cliched sitcom lately, so my proclaiming it now is only in keeping with a theme. Barring this spinster shower plan, however, free gifts from corporate sponsors sounds like an excellent scheme on which I'd like in. Flurrious, I trust you'll keep me posted on your progress on this front, correct? I thought so. Thank you.