Well, maybe not
everyone.
The Johns of TMBG might have been exaggerating just a tad with that. But the natives actually were quite amicable, particularly the ones who helped our obviously confused selves make sense of the subway routes when we were clearly feeling underconfident in our map-comprehending abilities. (I maintain that I
know how to read
a subway map,
as I've done so successfully in plenty of other cities without trouble, but either construction has things more messed up there than we realized or New York's underground train tunnels shift around and lock into new positions constantly and without warning, like the pathways in the Labyrinth or some such thing. That could, of course, be my overactive imagination rationalizing for my own poor sense of direction, but I maintain that it is possible... not to mention an entirely more interesting explanation.)
Anyway, my point is, if you ask me, New Yorkers have gotten a bad rap. Friendliness and good will
can
abound, even in a city of chaos and crowding. I would have come home with this happy assessment even if I
hadn't
met the famous*
Darren
and the charming*
Miss Peach
, though of course, meeting them only served to solidify the opinion. I mean
really
. Darren mailed me his keys and let me stay in his home without even asking for a credit card or driver's license number first. Even in the supposedly hospitality-minded Midwest you won't find a whole lot of people who'll do that. Darren may be impressed that I
Swiffered his floor
, but if you had seen the way he carefully laid out a set of neatly folded, soft, white towels for us on his bed, you would have understood the need to reciprocate and leave his place as clean and tidy as he'd left it for us. He didn't go so far as to rest a square of chocolate on each pillow, but he was, all in all, a very helpful and gracious absent host.
------------------------------------------------
* Is "charming" better than "famous"? Does "famous" make Darren sound more important than Peach? I'm having a hard time coming up with a set of adjectives that will flatter them equally and not offend. Suffice it to say they were both witty conversationalists and excellent hosts, and I shall simply leave it at that.
------------------------------------------------
I'll recount other details of the rest of our trip later, but for now, I thought I'd follow the photos that Darren posted of our time at Cowgirl with some decidedly less trippy ones of my own.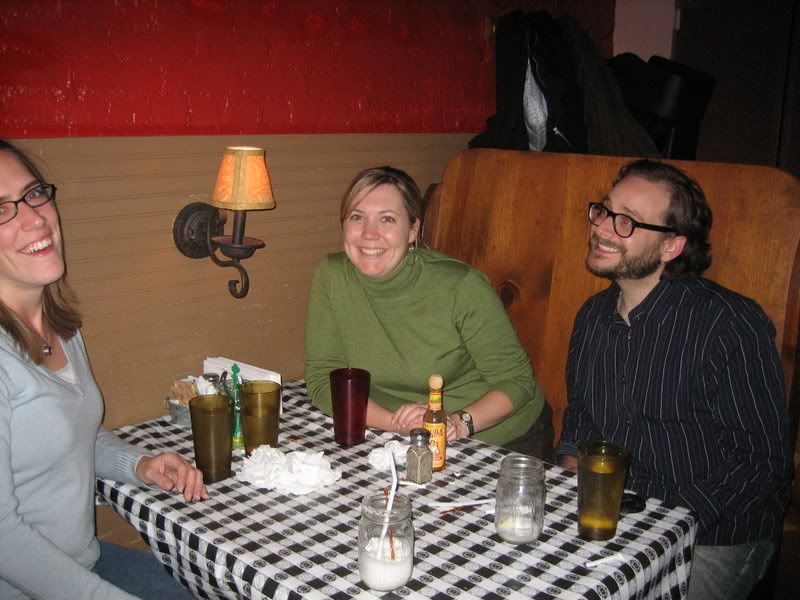 Me, Peach, and Darren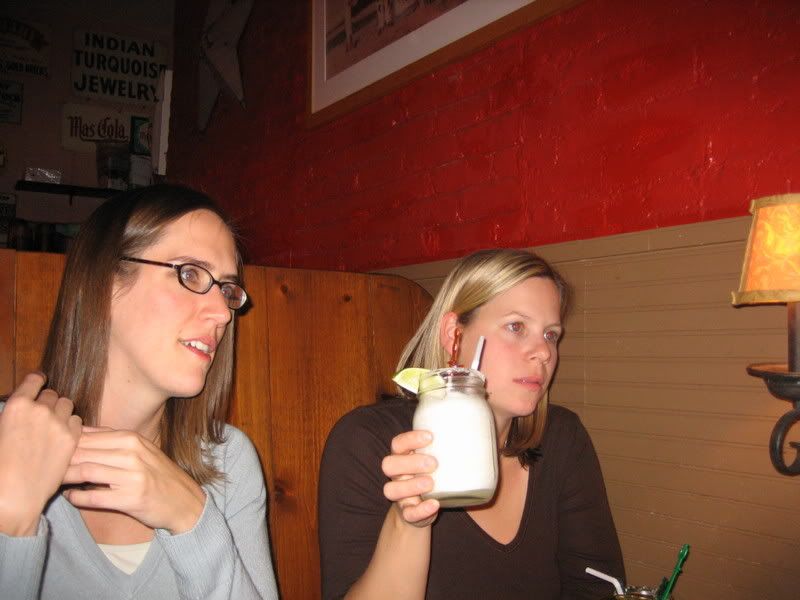 Clearly, in this one, Peach has captivated Lisa with hypnosis and is using her powers of suggestion to get Lisa to hand her drink over to Darren. You may think none of that is actually going on, but a photo doesn't lie, people.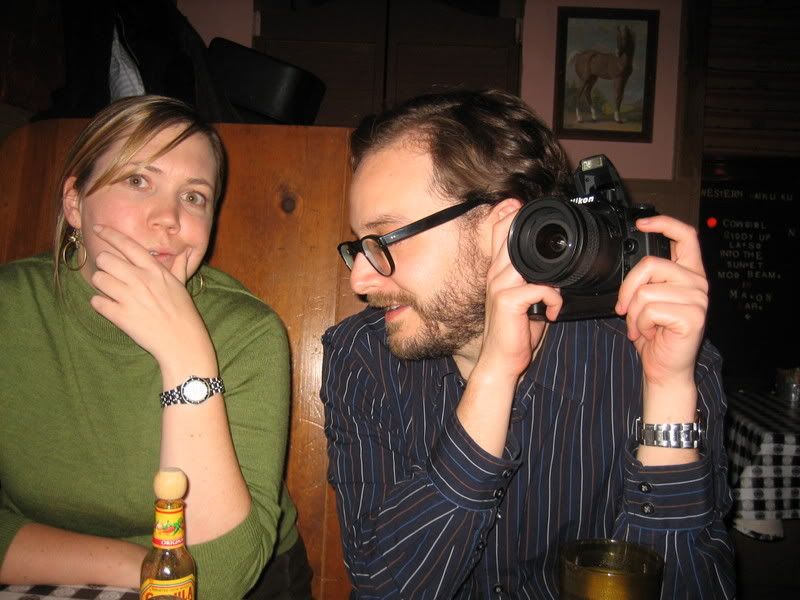 If you are one of the three remaining bloggers who hasn't yet met Darren, I will give you a little not-so-secret clue about him. Darren seems to think that if he doesn't look at you directly, you will not notice the ginormous camera he is pointing at your face. This trick may work on the subway, but it is a bit less successful when he is sitting right across from you in a bar. Luckily, I have been reading his blog long enough that I fully expected the Snappy McClicksalot** assault. Lisa was decidedly less prepared, but was amused by it nonetheless.

** Did I get that right, Darren, or is it Clicky McSnapsalot?