This picture was taken last week sometime, less than four miles from my house. The bridge on the left is my usual route about 50% of the time I leave to go anywhere except to work. It has been rather inconvenient this summer, what with road construction closing some or all of the lanes in the area on a sporadic yet annoying schedule.
As of this afternoon, that construction is the least of my concerns. It seems I will be seeking alternate routes far beyond the planned timeline for that. Why? Um, you
may have heard about it
.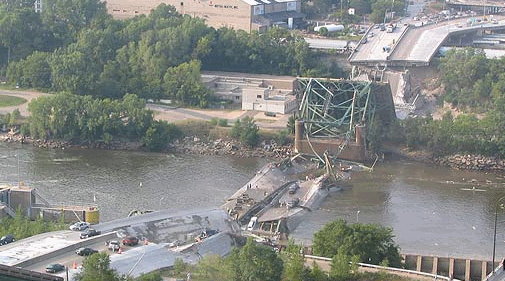 No bridge. Gone. Collapsed.
I stand by that subject line up above, and I have little else to add beyond that. Oh, except that as far as I know, all of my friends are accounted for, and if I were a praying girl, I'd be doing a bit of that for all the people I
don't
know but who
were
on the scene at the time.
Sheesh.
On a more self-absorbed but lighter note, I have a first date tomorrow with a man who is even more geographically undesirable to me now than he was five hours ago. With my luck, I will actually like this one. I should just call the whole thing off right now.