I would like to send a great big thank you out to
Nancypearlwannabe
, who not only got me hooked on the divinely tasty (and potent... oh my, too potent)
Caipirinhas
that I am enjoying all by myself this evening, but who also recommended that I look at Old Navy one more time for the jean jacket I've been whining about needing for several weeks now. After a lovely lunch with some out-of-town friends today, I decided to swing by Old Navy (which, incidentally, is one of the
very
few
places that is actually
easier
to get to with that
stretch of 35W now gone
, in that the entrance to the strip mall where it's located isn't the source of an influx of freeway traffic anymore). I already looked at Old Navy a few weeks ago and had no luck in the jean jacket search. Even today, I searched the whole damn store, and actually found myself muttering audibly under my breath, "Not a god-damned jean jacket in the place. Why the fuck is there not a god-damned jean jacket here at all??
Why
would NPW lead me astray??" I was just about to give in to the long journey to the Albertville Outlet Mall when I spied a peg in that strange center-aisle section of the store bearing a row of denim jackets. And low and behold... success!! It's fitted; it's a reasonably acceptable shade of blue; and best of all... it was only $29.95 and on sale for five dollars off that price. It may have been assembled by child laborers in a Chinese sweatshop, but by damn, with the $25 gift card my mom gave me last Christmas, it was entirely FREE to me. Whoo!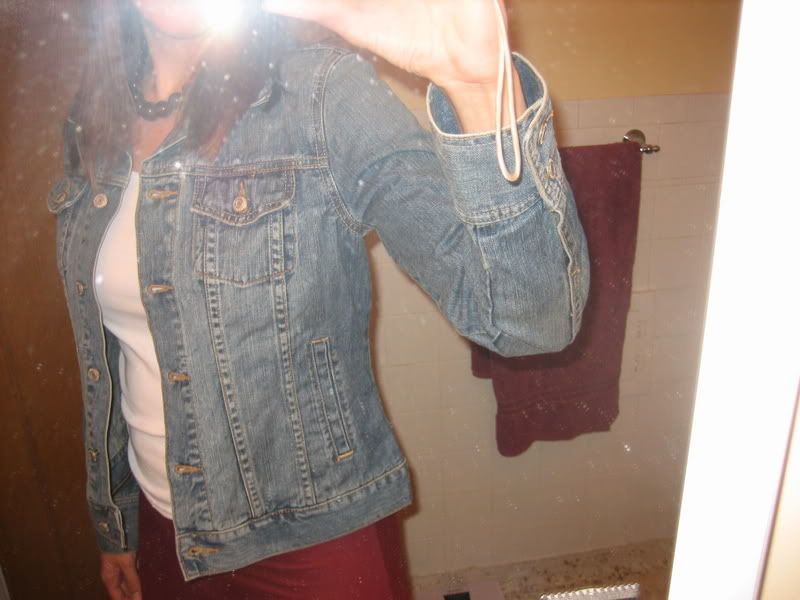 (Note: Good LORD, I really ought to dust that bathroom mirror!)
I was so excited by my finally good fortune that I picked up a cute pair of ballet flats as well. My friend Carrie and I have a sort of love/hate relationship going with sneaker-ballet flats. They are great in theory (cute and reasonably comfortable and all that), but three wears in and you suddenly need to
toss them in the freezer
to avoid the offensive stench. Does anyone out there
not
have this problem? Please, tell me it's not just us. Anyway, at $16, I decided to risk that problem and take these home anyway. I was on sort of a shopping high, you see.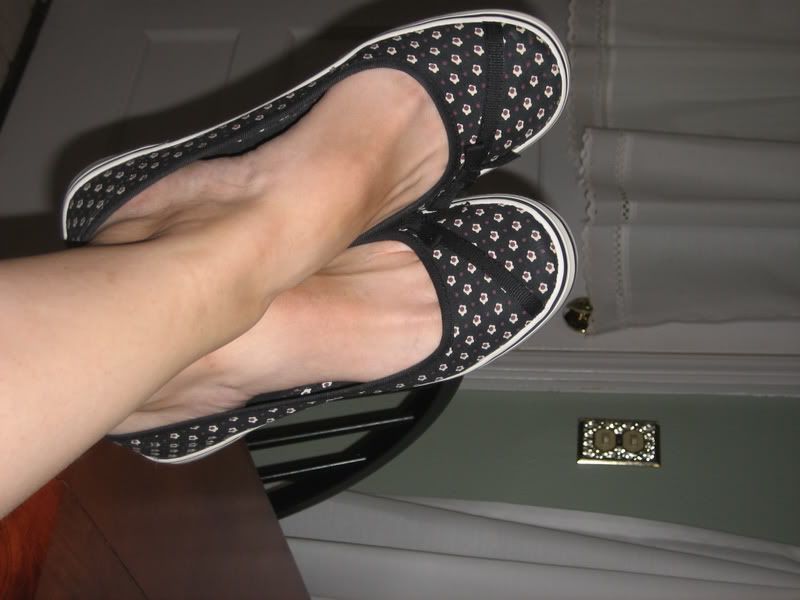 You'd think all of my consumer demands would now be met, but alas, I am still without a tie-on kitchen towel to replace the one that
bit the dust recently
. I finally gave up that search (for now, anyway), and found the solution to that dilemma in the form of a stainless steel over-the-drawer hook at Linens & Things.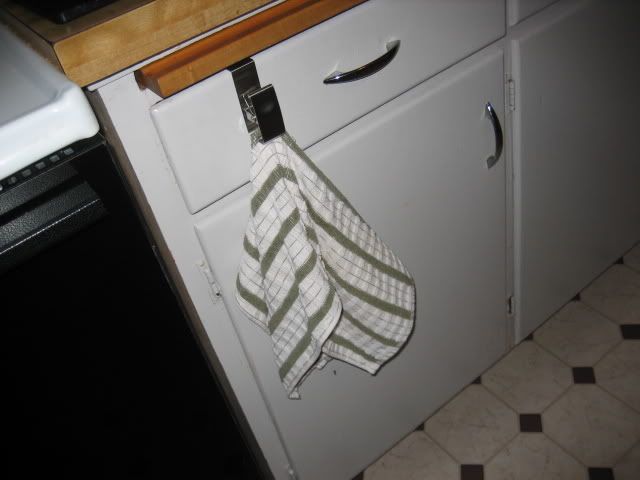 It's not ideal (as it wobbles around quite a bit), but it suits the purpose well enough, I guess. Before buying it, though, I asked a sales clerk, "Don't they make kitchen towels with ties for drawer pulls anymore?" The woman looked at me like I'd just stepped out of a time machine and had asked for a
sanitary napkin belt
. I ask you, aside from the frayed and worn edges, is this towel (which I was using until a few short weeks ago)
really
so out of date??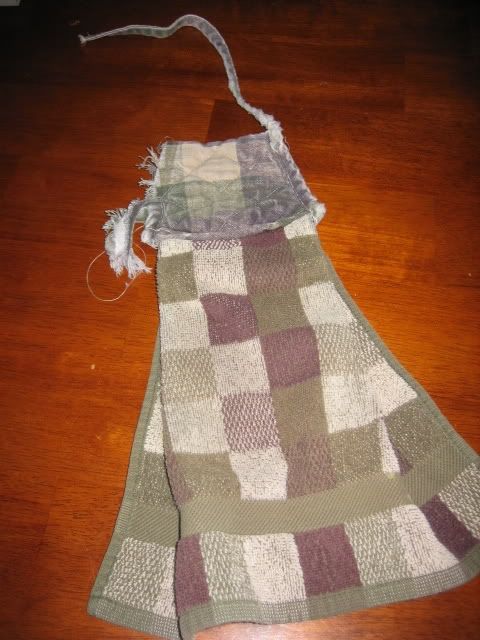 I still don't know what the rest of you use to dry your hands in the kitchen, if the tie-on towel is so very passé, but I guess I should let it go already.
All right then. I was going to tell you all about the wacky dream I had last night (which involved John Krasinski flirting with me in my college dorm hall, Robin Williams dancing in a plaid, pleated Catholic school girl's skirt atop a car, and
The Magical Boy
waiting in my doorway with two sons he does not actually have), but the video and DVD I checked out from the library today are waiting for me, so I'd best retire to my living room for that. Apparently "staying in is the new going out" applies not just to Fridays, but to Saturdays as well. Fine with me, I say.