Hello, friends. While it is still my Very Special Birthday Week, it is no longer my actual birthday, so I'd really better post something new, hadn't I? First, though, I should say that I had a lovely birthday, which involved dinner with (and excellent presents and prizes from) several good friends, as well as
four
different cakes. Four cakes is not a record, of course, given that whole five-cake birthday when I turned six, but it was exciting nonetheless. Also, my sixth birthday did not involve vodka, so there are
some
advantages to getting older, I suppose.
Because comparison is fun, check it out:
Haven't changed a bit, have I? Well, my excitement about cake hasn't, anyway.
Also, while I was busy recovering from my own birthday, my blog had a birthday as well.
Stefanie Says
turned three yesterday. Presumably we're potty trained and ready for preschool now. It's all very exciting, of course.
As if all of that (not to mention St. Patrick's Day) weren't cause enough for celebration, those wacky Christians who are in charge of the holiday calendar went and put Easter in the same seven-day span as well. I will be enjoying that the same way I have for the past few years--by stuffing myself at a brunch with several of my favorite fellow heathens. It's amazing how easy it is to get a group reservation on one of the busier days of the year, even mere days in advance of the holiday, if you're simply willing to take a late morning time slot during which all the
real
Easter celebrants are at church. Score on that, I say. An early meal just means I'll be home sooner to get a jump on that inevitable afternoon nap.
I'm sure my very Catholic mother would be shaking her very disapproving head at that last paragraph, calling me out in shame at my seeming disrespect for our Savior's rising from the grave. And while I apologize for my flip remarks, I still say Easter always was one of the weaker and less eventful holidays, despite what they said in my grade school religion classes.
Metalia's the expert on this
, not me, but it actually seems that
Jews have all the fun
, what with the
Bag o' Plagues
and the
Huggable Matzah Ball
and the
Let My People Go
board game.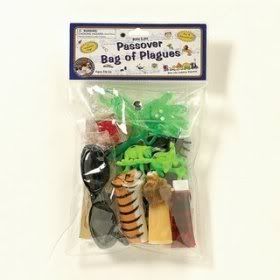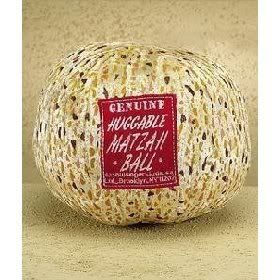 Actually, scratch any enthusiam about that "Let My People Go" board game. It just called to mind a not-so-rousing game of Bible Trivia that my sisters and I were once roped into playing at a family friend's house when we were kids. I have always enjoyed
winning
board games, but I remember my poor showing in that one being not unlike Bart and Lisa's miserable failure against Rod and Todd Flanders in their game of Bible Bombardment. No stickers for me, obviously. Eight years of Catholic school and little aside from pervading guilt to show for it, I guess.
But enough about me. How will
you
be spending the most Cadbury-friendly holiday this year?