As the Funky Carter Administration's appointed Grammar Czar, I feel it's my duty to notify you that today is, officially,
National Grammar Day
.
Do with that information what you will. Take a permanent marker to that sign with a missing apostrophe. Invite a friend over to diagram sentences. Try once again to
teach the Internet the difference between

its

and

it's
. (Seriously! I am still seeing this places!
Why
can't we all just
learn
that one by now??)
Ahem. Sorry. I got a little worked up there, I guess. Perhaps I should have a
grammartini
and unwind. Or just flash my new membership card with authority and watch people's grammar miraculously improve on command.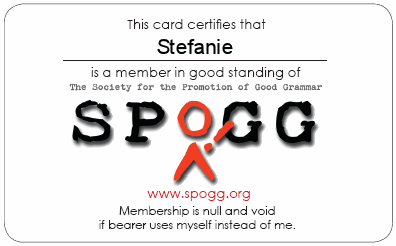 What? It could happen, right? A nerd can dream.