Hey there! How are you? Guess what I have
still
not done yet? If you guessed "Hooked up your new scanner?" then you are smart. Or I am predictably lazy. Frankly, both are quite good possibilities, I must say. Is anyone still actually waiting for the inevitably disappointing artist's rendering of my
royal blue Hee-Haw dress or Miss Prom Pants's triangle hair
? I didn't think so. Moving on then.
In lieu of any prom-related photos or drawings, how about we take a decidedly different turn and pretend this is a knitting blog again for a bit?
GG
showed off her baby-blanket-in-progress
yesterday
, so I think I will just pretend that was a meme and show you the one I recently finished as well. Here it is: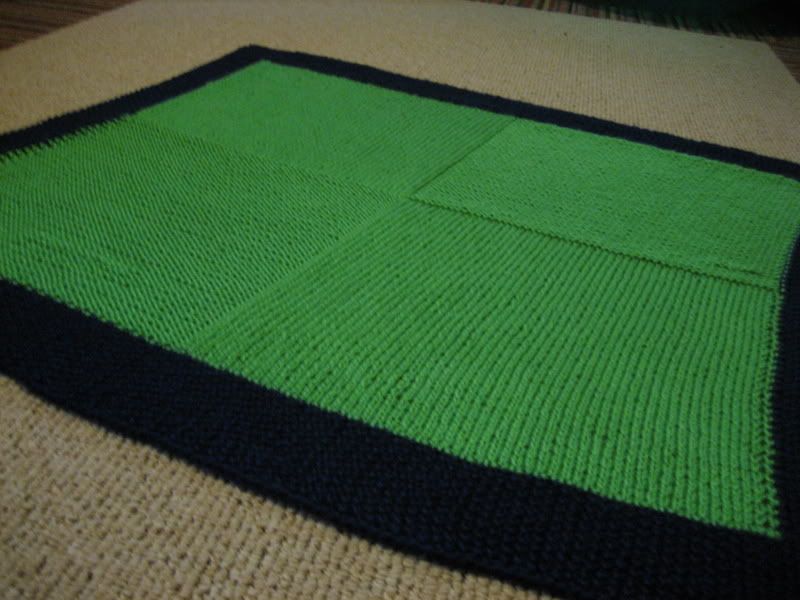 I started this a couple months ago and actually completed the bulk of it while watching some very inappropriate-for-small-children things on DVD. If you consult my movie list for early January, you'll see that during the time I was knitting this, I watched
Pulp Fiction, The Last Kiss,
the
Enron
documentary, and
Kids.
I sincerely hope that this blanket is in no way now tainted by its unintentional association with extreme violence, infidelity, corporate greed and corruption, rampant drug abuse, and loose sexual morals as a result.
I shared this concern with
Darren
a few weeks ago, and he offered the very good suggestion that I wrap the blanket around my TV and leave it on PBS all day while I'm at work in the hopes that some wholesome programming would somehow set things right. Instead, I guess I am just going to trust that the sweetness that is the tiny recipient of the blanket will overcome its shady beginnings. I mean, just look at this little guy. He could warn off all bad blanket juju, don't you think?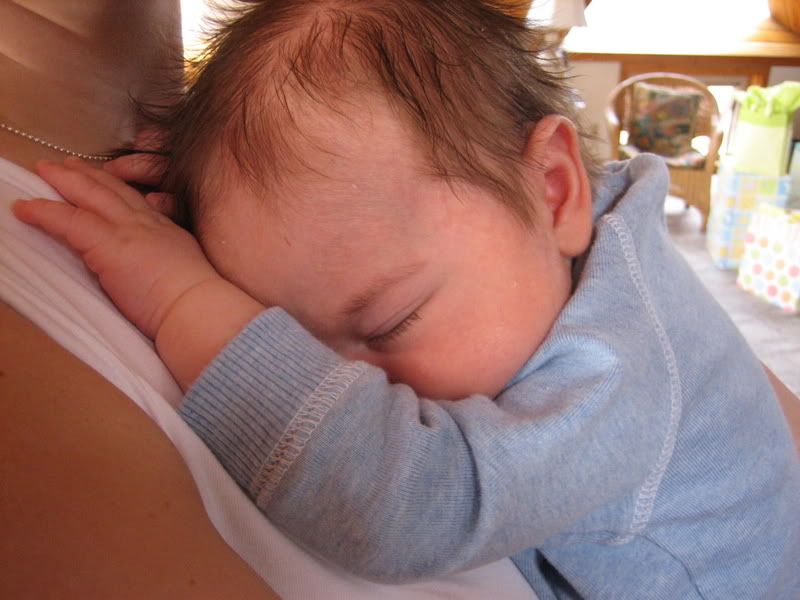 I handed over the blanket at a party held in this little man's honor Sunday. Can you believe he didn't even have the decency to stay awake for it? The nerve. He did wake up eventually, however... just in time for his
Barynya
practice.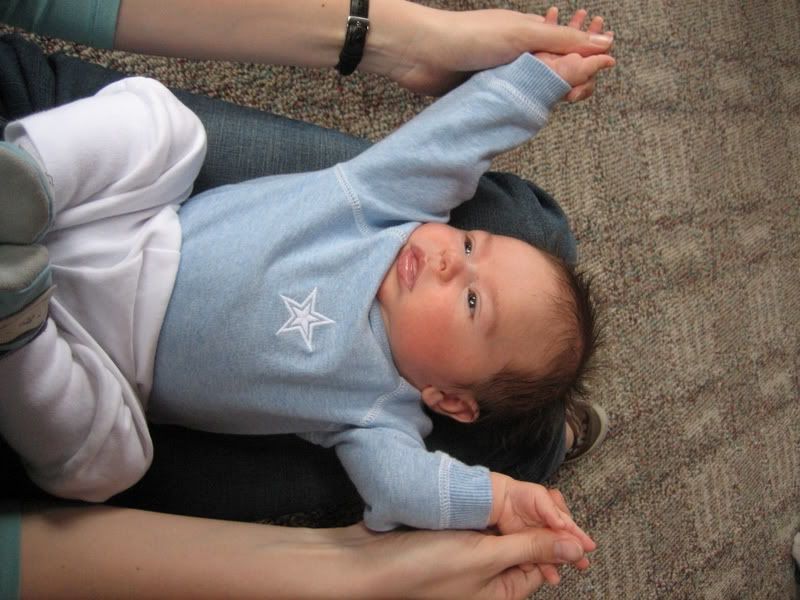 (FYI: No, I did not know the word "Barynya" on my own. I'll admit I looked it up. Surprisingly, it's not as easy as you might think to find the proper name for "Russian dance with lots of squatting and jumping." Luckily, I've got mad Google skillz.)
In this one, I'm pretty sure little Will is saying, "Hey dude, got some spare change? Come on, help a brother out." (I guess Barynya doesn't really pay the bills, after all.)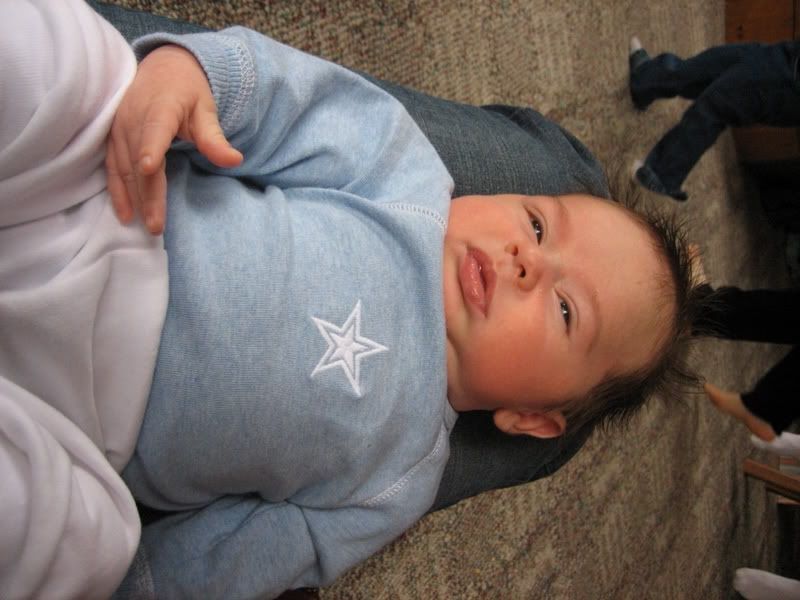 And in this one, it seems he's saying, "Gah! Get me away from this lady!" Or possibly, "Hey, is that a cookie you've got back there? A Tagalong, perhaps? Can I have me some of that?"
OK, frankly I'm not all that great at putting words in infants' mouths, so I'll stop this nonsense now. There's a reason I wasn't a co-writer on
Look Who's Talking,
after all (and that reason wasn't
only
the fact that it was a dreadful and mind-numbing movie... nor that I was only 15 when it came out and, believe it or not, was
not
any sort of child screen-writing genius in demand by TriStar and all its subsidiaries).
Anyway, the shower was lovely, with fine snacks and only two silly games--neither of which I won, thankfully (the enormous canisters of Kahlua- and Baileys-filled chocolates looked like an awesomely tasty prize, but me and the extra eight pounds I'm carrying around lately really don't need that sort of temptation in our home). And little Will is pretty much near perfect, I guess, which seems only fitting considering what cool parents he's got. Congratulations, J and D. I'm sure you've lots of fun times with him ahead.