Something very frightening and unfortunate happened to a friend of mine a few weeks ago. On her way home from a club after a Thursday night out, she was pulled over on suspicion of DUI. I say "suspicion of" because she did not actually take a breathalyzer test that evening, so I have no idea how inebriated (if at all) she really was. I won't go into the details (because I'm not entirely clear on them myself and also because it's not my story to tell), but I will say that she ended up missing
that party
I hosted recently not because she flaked out, fell asleep, or got a better offer, but because while I was mixing mojitos with
my new muddler
, she was bonding with prostitutes and drunkards in a city jail. Good times.
Hearing that my friend, a respectable, responsible, home-owning, proper job-holding grown-up with her head screwed on mostly straight was suddenly draining her savings to cover bail money and lawyer fees and having to get up at 5:00 a.m. to catch the first of her three-leg bus journey to work instilled a bit of fear in me. And in light of that fear, I did what any sensible girl
(read: huge nerd with an Internet connection)
would do: I ordered a personal breathalyzer.
You didn't even know you could buy such a thing, did you? Well, you can. And you can spend anywhere from $20 to $120 (or more) on it. I opted for a lower-end model, and I am quickly coming to realize that perhaps, as with so many things in life, you get what you pay for. More on that in a minute. First, I want to clarify something. I feel a wave of backlash brewing, and I would like to stop for a moment to explain that I did not buy a personal breathalyzer because I routinely get myself all liquored up and then casually slide behind the wheel hoping for the best. I did it because frankly, I have no idea what .08 feels like. I suspect most of you don't, either. Clearly this would be useful information to have in mind. If nothing else, I figured it might make a fun party game. You know, in a bizarre frat house sort of way.
I've tried out my little white breathalyzer a few times now, and each time it has met with mixed results. So I thought tonight I might do a sort of hour-by-hour study to see just how well this new toy works. (I'm here to help, people. It's all in the name of science and public service.) I opened a bottle of Riesling as I made my dinner*, and I've been taking periodic swigs and readings ever since. At last check, I had about 3/4 of the bottle downed and was feeling a wee bit wobbly, and yet, this is what my ever-so-helpful Safe Mate(R) personal breathalyzer had to say.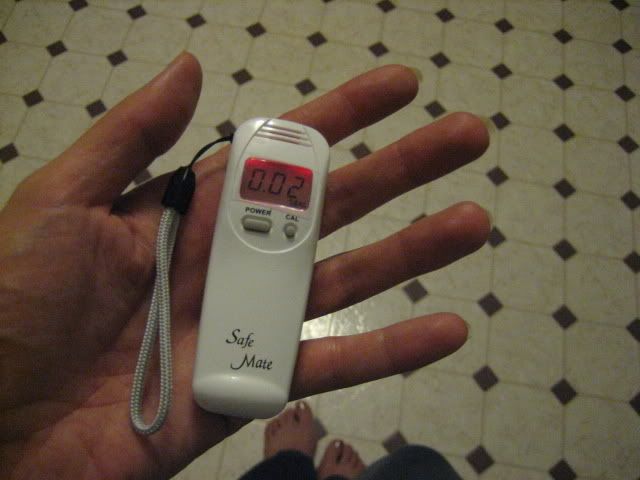 .02! After 3+ glasses of wine! Either I am obese and a lush and my blood is impervious to the effects of alcohol or this little tool is a tiny piece of crap. I am well aware that my weight is running a bit heavier these days, but I'm still going to go with the latter.
Of course, there's always the possibility of operator error. The instructions weren't terribly thorough, after all. Sure, my
hairdryer
came with detailed and careful instructions documenting each step of use and care. But my personal breathalyzer? Never mind that it's not the sort of gadget most of us have used a thousand times; apparently "you'll figure it out" is good enough in this case.
The instructions aren't just unclear and incomplete, however. They're also poorly translated. This is the silver lining in a possibly pointless purchase, of course. I
love
an amusingly bad translation. Just check out the features of the Safe Mate Personal Alcohol Tester, as listed in my tiny and near-useless owner's manual...
This unit is designed to detect the percentage of the alcohol in your breath, so you may know how much you are drunken!



Although tiny in size, it has the feature of much larger (and more expensive) unit. You can also use the unit as a gas leakage tester.



Note that the manual doesn't tell me
how
to use the unit as a gas leakage tester. Nor does it explain the cryptic string of letters that often scroll across the screen when I try to get a reading. Apparently these aren't details worth mentioning. Hmm.
So. Twenty-four bucks and a bottle of wine later, and I still don't know just how "drunken" I am. Perhaps I should stroll down Central Avenue and seek out a police officer willing to help me with a comparison study? Somehow I doubt Minneapolis's finest would be amused by that proposition. Some other time, maybe.
-------------------------------------------------------------
* Honey mustard chicken (recipe courtesy of
Metalia
) and parmesan mashed potatoes (like
Nabbalicious made
). Yum.