I fear I have hit a bit of a bump in this new healthy living plan of mine. Last night, I had planned to make a
Spicy Shrink Yer Butt Salad
* for dinner, but instead was so hungry (and OK, lazy) that I made and ate the better part of a Freschetta pizza instead. By "better part" I mean not that there was a good part and a bad part and I ate the more favorable one. No, I mean that I cut that full-sized pizza into eight slices and I ate six of them. SIX. On the plus side, it was a Canadian bacon and pineapple pizza. Pineapple counts as fruit, right? Even if it's just in tiny, tiny shards atop a bed of melted cheese? I thought so.
-------------------------------
* Response from my amateur chef friend when I shared this link with her? "Ha. I make salads like that all the time. Seems hard to believe that anyone would need a

recipe

for

that

!" (Response from me if said chef weren't one of my closest friends? "Bite me. We can't all be Martha, you know.")
-------------------------------
Moreover, thanks to last week's death cold, I have not been to the gym in over a week. And I was doing so well, too! The
post-it in my Outlook Notes component
showed I was easily on my way to another 17-visit month. Alas, it will have to be a measly 9 to 12 as per usual instead.
So I have not done any sort of proper exercise lately--that is, unless coughing and blowing my nose counts as an abdominal workout. (You laugh, but -R-
threw her back out during a coughing fit
, so obviously either being sick involves more physical exertion than you remember or we are both shamefully old and feeble. If you are going to vote for the latter, I really don't need to hear from you, thanks.) Despite my having done no proper exercise, however, every part of my body hurts today. Why? Because I spent the day yesterday turning this...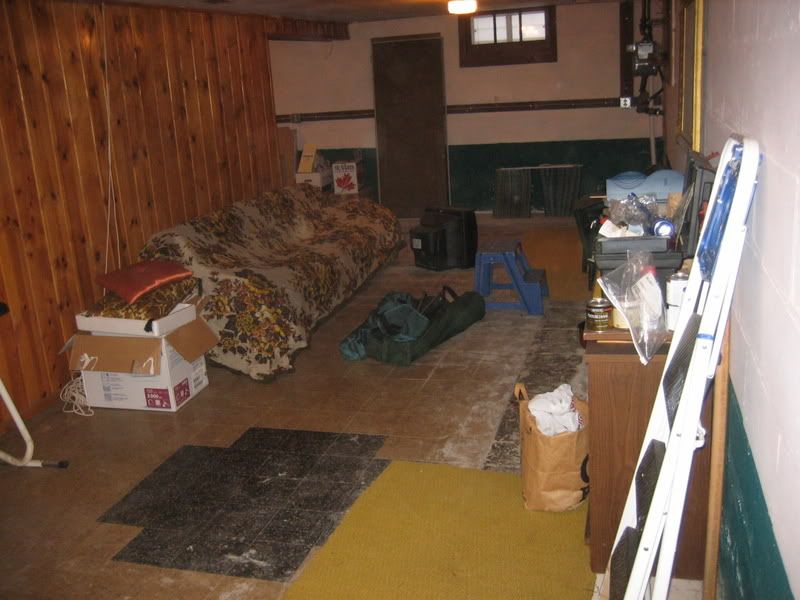 ...into this.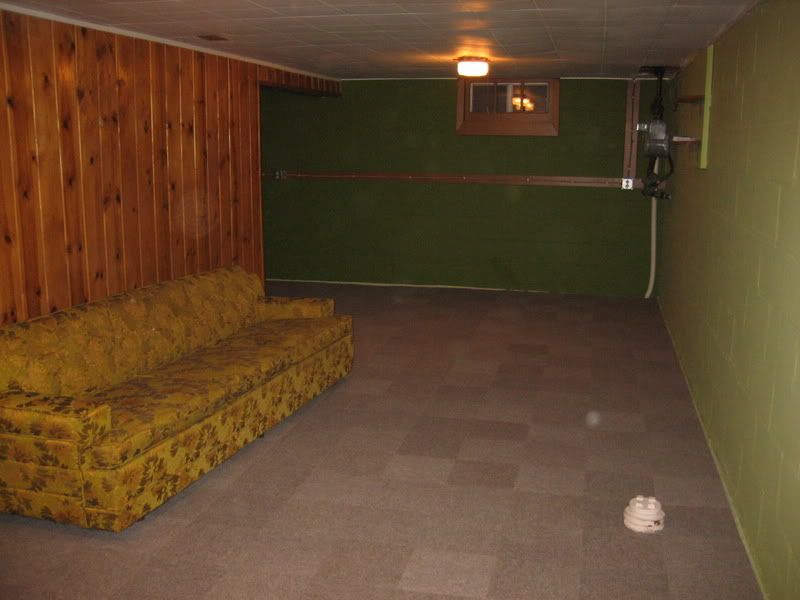 All right, so obviously not all of that happened yesterday. I have been whining and bragging about this basement project for months. The majority of the carpet part happened yesterday, though, and it was entirely more strenuous than the "just peel and stick" instructions would have you believe. Clearly laying carpet tile is a valid physical activity worthy of being featured on one of those
"Do"
billboards I'm seeing all over the place. I had no idea spending six hours laying carpet tile would make every muscle in my body cry, "I'm here! Did you forget about me? HERE I AM, friend!"? People, it hurts to
drive.
Even the most brutal kickboxing or yoga class doesn't leave my palms too bruised to grab the steering wheel. I wasn't really shooting for stronger palms, but I say sore body = exercise. And a six-hour workout more than justifies six slices of pizza. See how nicely I rationalized that?
By the way, I know you're beyond jealous of that couch. You're wishing YOUR house had come with one of those. Strangely, it almost sort of matches the new color scheme, but I'll be covering it with a slip cover soon anyway. I've decided that if nothing has crawled out of that couch in the four years I've lived here, it's probably safe to use, but I still don't want to rest my head directly on the ancient "who knows what's been here" fabric.
On an entirely different note, here's a puzzle for you. When you decide a late-night cup of herbal tea might be nice, but the
Sleepytime tea
in your cupboard says it was best before August of 2002, what do you do? The correct answer, of course, is to drink the free sample bag of Tazo resting against the Sleepytime box, which you are sure has been around for just as long, but which conveniently bears no expiration date. Denial is a handy tool, my friends. Words to live by, I say.