So here I am on yet another Sunday night wondering where on earth my weekend went, wishing I had just another four hours or so to unwind and attend to the various things I didn't accomplish in the last 52. This happens every weekend, of course, and I'm finally starting to realize: Oh yeah. If I would simply get UP at a reasonable hour on Saturdays and Sundays, I
would
have an extra four hours in each weekend. Of course, if I did that, I'd just deem myself deserving of a nap by mid-afternoon, so let's just say that weekends are inherently too short and perhaps it has nothing whatsoever to do with my laziness or poor time management and leave it at that, OK?
In dating news, I have no news. I do have a question, however--you know, for those of you who are happily coupled off or have ever
been
happily coupled in the past. (You like those, don't you? Doesn't everyone like to help?) Tell me, if I have not seen either of the
two men
I'm not-so-scandalously dating since this past Monday and Tuesday, respectively, and if I have not given either of them more than an idle passing thought here and there since then, is that a sign that perhaps I'm not so into them, or does it just mean I am busy and popular and they are new and still foreign and relatively unimportant to me and perhaps I will warm to one of them and soon be genuinely excited to have him in my life? As I mentioned last week, I'm trying to do this thing where I actually keep an open mind and reserve judgment instead of saying, "Um, thanks but no thanks" after three dates. Mind you, I have had a good time with both of them. There's been nothing so odious or unpleasant as to warrant an obvious "I'm out" decision. But neither is making me say, "You! Yes, YOU! I want to date you and only you!" either. Three-to-five dates in, what do you think: is that portentous, or could it still go either way? I know no one else can really answer this for me, but it still annoys me that I can't figure this stuff out by now.
As I said, however, I haven't gone on a date since Tuesday, so I can't even blame my so-called player lifestyle for my absence from the Internet of late. I would say I've been busy with many other things, but in reality, I think several time warps were involved. This evening, however, I did have plans. I went to see David Sedaris read at a theater downtown, and naturally, rather than leaving feeling inspired to write something myself, I left realizing I will never craft witty sentences anywhere near as artfully and hence, I should not even pretend to try. Instead, then, how about some pictures?
Pictures of pumpkins...
And apples...
And my friend Amy with a mutant gourd...
And me and several friends outside an antique store...
Bearing treasures untold inside...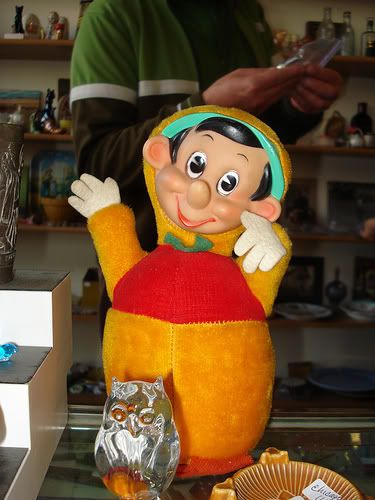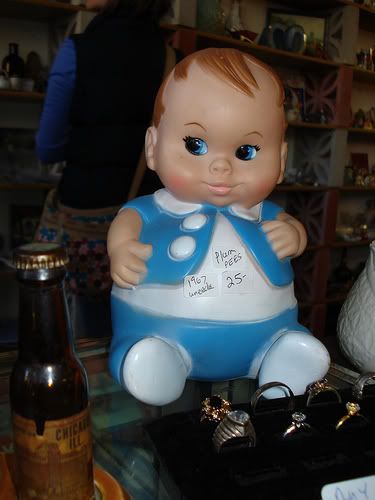 And I guess that about covers the highlights of my weekend... How was yours?