You guys, I am totally famous. Remember back when
-R-
and I
went to see Crazy Aunt Purl
, and -R- was totally a blogging rock star because Crazy Aunt Purl totally knew who she was? (Also, remember when I could come up with exclamatory adjectives
other
than "totally"? Yeah, I'll work on that.) ANYWAY, today I have -R- beat, because while Crazy Aunt Purl may read -R-'s blog, guess who reads mine? Go ahead, guess. I'll wait. Give up? Oh, no one special, really. Just PAULA POUNDSTONE. And not only is she reading, but she sent me an e-mail to tell me to keep up the good work!
OK, so
really
the e-mail came from Paula's manager, and it was intended for my lovely
guest-poster
, Nabbalicious. Also, in this age of Google alerts and Technorati, it shouldn't be so surprising that if you write about a celebrity, even in the giant cloud of anonymity that is the Internet, there's a reasonably good chance that celebrity (or someone hired by that celebrity) might read what you wrote. Still, I managed to forget this fact of modern life momentarily, because seeing Paula Poundstone's name in my Inbox with the subject line "Your post about 'Wait, Wait'" still caught me completely off guard. And now that I've gone and written about her twice, she'll probably see this as well. (If so, hi, Paula's manager! How's it going today?) I have to wonder, though... if celebrities really DO read everything we write about them, then
Ethan
, why haven't you called me?? Sigh.
All right; that's really all I had to talk about tonight. Yep; e-mail from Paula Poundstone is about the most exciting thing I have going on, and it wasn't even an e-mail directed towards me. Yes, yes, I could talk about last night's debate, or about how I watched the portions of it that I watched with a boy, and how that boy looked at me at one point during the event to ask, "So... are you watching this or not?" because he didn't want to interrupt my very important and serious civic-mindedness by trying to kiss me (which is more than I can say for
The Neighborhood Giant
during
Michael Clayton,
the result of which being that I still have no idea what the hell was going on in that movie). But if I wrote about that, it might either jinx the portions of that situation that I feel semi-good about, or force me to dwell on and subsequently weird myself out over the parts of that situation I feel not-so-good about. So I fear I need to be annoyingly vague and uncharacteristically secretive about that. Sorry.
Instead, then, let's talk about shoes! What? I wouldn't be a female blogger if I didn't blog about shoes at least once a year, and I can't recall any shoe-related posts thus far in '08. To my male readers, I do apologize. You can just skip to the next post in your feed reader right now if you prefer.
Still with me? Great. I'm following
Abbersnail's lead
and deciding that it really is high time I just bought a pair of red shoes already. I am woefully inadequately accessorized most days, and I do think red shoes would be just the thing to point me in the right direction in that respect. The question is,
which
red shoes? I think I finally have it narrowed down. The choices are thus. Weigh in, if you will.
#1 - I
think
I like these best. However, the reviews thus far lead me to believe I'll need to buy some shoe glue almost immediately if I purchase them. Steve Madden makes a cute shoe, but apparently his workmanship is shoddy. Is it worth it? Glue is easy enough to apply...
So cute,
though, aren't they??
#2 - Nearly the same shoe (and the same brand), but mysteriously eight dollars cheaper. Also, are they really such a bright red, or is the photography just misleading here? Tough call.
#3 - Perhaps a bit more versatile, in that they'd go with dresses as well as jeans and pants, but how often do I actually wear dresses in the fall and winter? (Answer: Not often.) Still, how cute is the kitten heel?
And finally, #s 4 and 5 - both excellently versatile and tactful choices, as you can see.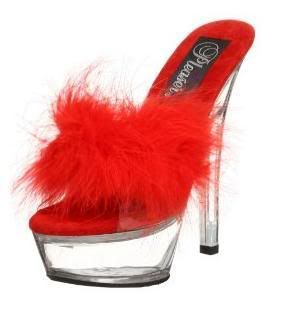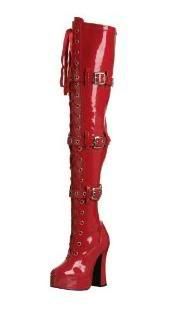 OK, so I am kidding about those last two, although I sort of secretly love the thigh-highs and nearly wish I had some absurd costume-related excuse to purchase them.
Aaannnddd,
now you're picturing me in red pleather thigh-high boots with whatever outfit would accompany such a thing. I do like to keep people guessing and put myself out of my comfort zone now and then, but
that's
not really an image I meant to conjure up.
Back to the point, then. #1, #2, or #3?