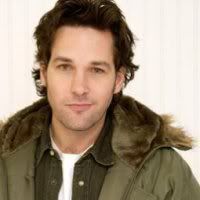 I had a Friday Five for today all picked out... started writing it last night and everything... and then I went to
IMDB
this morning and realized it is my fake boyfriend Paul Rudd's birthday today*. Happy birthday, Paul. Or rather, happy birthday, Josh, as I prefer to call you, since I've never particularly liked the name "Paul" and since it was as Josh in
Clueless
when I first fell for you a little bit. Since you are, after all, just my
imaginary
boyfriend, I feel it is entirely within my rights to change your name.
Thinking about Josh made me think about all my other imaginary boyfriends (which is something I was already thinking about recently, ever since Preppy Girl posted a list of her
movie boyfriends
). So in honor of Josh's birthday (and in the interest of continuing the discussion started over at
Preppy Girl's Guide
), here we are:

My Five Favorite Imaginary Boyfriends







So. Who's
your
imaginary boyfriend/girlfriend? I'm sure I've forgotten more than a few someones who are undoubtedly quite worthy.
____________________________________
* If you go to IMDB, you will see that it is also Zach Braff's birthday. Much as I appreciate Zach Braff, however, I am for some reason not smitten
enough to consider him my movie boyfriend. Feel free to send your own birthday wishes to him, however.