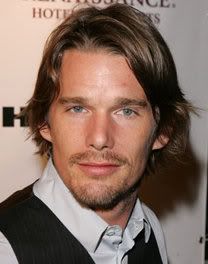 It is my boyfriend's birthday today, and I thought that, in honor of the occasion, we could all sing a little birthday song to him, OK?
Happy birthday to you
Happy birthday to you
Happy birthday, dear Ethan
Happy birthday to you

Thanks, everyone. That was really nice. Has anyone ever told you that you have a great singing voice? Well, you do. No, really. I mean that. Good job.
I would like to report that I have a lovely romantic evening planned for me and Ethan later tonight, but shockingly, he hasn't been returning my calls. I think he's still a little upset that I
didn't like his first book
. Really, honey, a little constructive criticism was all that was. Let's let bygones be bygones and move on, OK?