As I mentioned in a comment back to
-R-
on
that last post
, I finally overcame my laziness and procrastination and actually unpacked and installed my new printer/scanner/copier thingie. Whoo. It was actually much easier than I anticipated, so frankly I don't really know what my problem was. I even managed to install it with approximately nine-tenths of a bottle of wine in me, which means either that it was so easy, even a drunken monkey could do it, or perhaps that I am a little too used to functioning effectively on more than a bit of wine. I'm going to go with an explanation somewhere in between the two, OK?
So. The printer thingie was no problem. In the midst of connecting the printer thingie, however, I managed to tug the cord connected to my desktop speaker and inadvertently send the speaker in free-fall to the floor, landing directly on my left middle finger knuckle, which, frankly, hurt like a god-damn motherfucker, if I may be so indelicate and repeat a few of the words that spilled out of me immediately thereafter. I'd blame the wine for that, but considering it was the third injury incurred to some portion of my hands in the same damn day, I think the real problem is that I am decidedly lacking in coordination and depth perception skills even when under the influence of nothing stronger than water or cranberry juice.
I also managed to turn off and knock a cord out of my cable modem during this whole process and, unable to reconnect everything in the specific and picky order that's apparently necessary, I ended up having to call Qwest technical support for assistance. At 11:30 on a Saturday night. With nine-tenths of a bottle of wine in me. It has been a while since I had to tell myself, "Now,
focus,
Stefanie. Don't slur, and don't ramble on with drunken nonsense." I don't know why I didn't just go with it; the Qwest technical support rep would maybe actually
like
a drunken caller to liven up his night a bit. Damn Midwestern pride and decorum.
Anyway, I don't imagine my technical issues or unintentional self-mutilation are in any way particularly interesting to anyone, so let's get on with the long-promised first fruits of labor from my new toy... my sad representation of my
junior prom
dress.
Ta-da...
(click for larger view)
I also wanted to provide a picture of
Miss Prom Pants
, the triangle-haired she-devil whom the love of my 11th-grade life took to prom instead of me. OK, so she-devil is a little harsh. I actually had no problem with this girl at the time aside from her occasionally questionable wardrobe choices and her bizarrely geometric hair. And, of course, the fact that she unknowingly stole my prom date. In all fairness, I can't really blame her for that.
Anyway, so I
wanted
to provide a picture, but it seems the full-on triangle action didn't take shape until later in the year. In the fall of 1990, when most of that year's yearbook photos were taken, her hair wasn't all that absurd for the time. (Emphasis on "for the time." I mean, those bangs? Today? Obviously no.)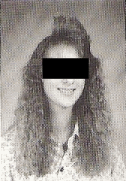 Somewhere between when this photo was taken and when Prom Pants was my imaginary boyfriend's date, however, the hair had sort of filled out or been re-permed to be much curlier towards the bottom than alongside Prom Pants's head. In addition, she shunned layers in favor of a blunt cut that let the ends of her permed and frazzled hair lie in a decidedly straight line on the horizontal. The effect was something like this: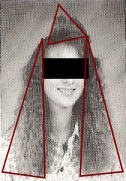 Unfortunately, since I have no real documentation, you'll just have to trust me on this.
So. That is the representation of my Hee-Haw dress and of the much-maligned triangle hair. I bet you can't wait to see what ridiculousness I'll deem worthy of posting with my new scanner next, huh? Grocery lists? Baby pictures? Time will tell, I guess.