I promise this entire post won't be about the last new episode of
Gilmore Girls
I ever get to see. I realize that not all of you ran into your living room this evening as soon as you heard the words, "Previously, on
Gilmore Girls..."
coming from your TV. I know that not all of you danced around your coffee table during the theme song for what will presumably be the last time ever.* And surely not all of you had to get up to grab the Kleenex box from your bathroom at approximately 7:45 Central time because that damn show had made you teary-eyed and sniffly for the third time in under an hour.
-------------------------------------------------------------------------
* What? You think I'm really the

only

one who does this??
-------------------------------------------------------------------------
I realize all of this, of course, but... Wait. What was my point? Actually, I don't think I had one. I did want to show you
this,
however. Just in time for the series finale, I got myself a shirt proclaiming
my new mantra
.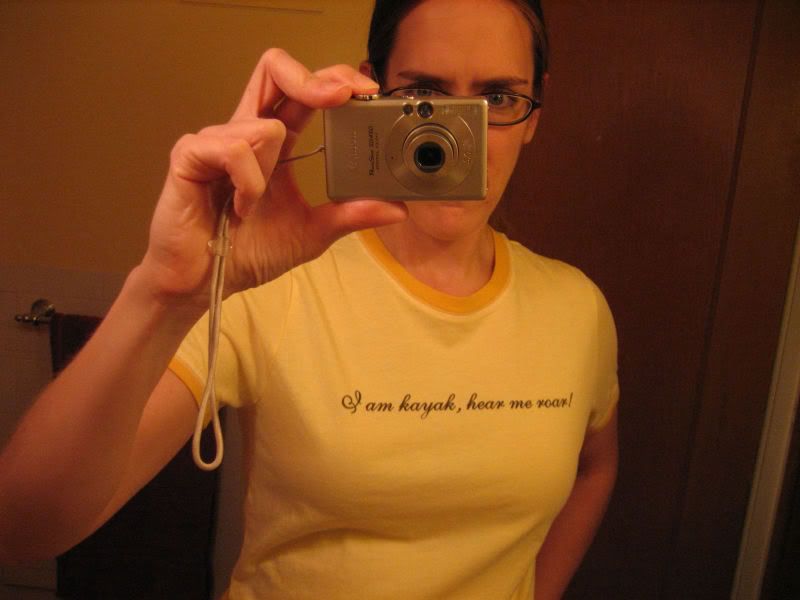 It's just in time, too, because I am finding myself more kayak than ever. Date #2 with the
very nice man who I'm unfortunately not at all attracted to
was last night
(in case you're wondering, he was the guy I met at that
"Learn to be a Liquorologist" class
a while back)
, and that second date will be a last date. I'm just not feelin' it, all his fine points be damned.
On top of that, I have recently been Miked for the second time in less than a year. I suspect you might not be familiar with that term, since I just made it up myself today. My friend Amy would understand, as she's been burned by men named Mike so many times that she refuses ever to date one again. She has often encouraged me to adopt this same boycott, and I've always replied that it's ridiculous to write anyone off solely on the basis of his name. Well, unless his name is Barry. Or Larry. Or, maybe, actually, Gary. (Sincerest apologies to any Barrys, Larrys, or Garys out there. I've just never been a fan of the "-arry" names.)
Now, however, I am beginning to suspect some possible credence to her theory. Hence, the new vocabulary word. "Mike" as a verb could have many meanings, to cover a wide range of being jerked about and mistreated by a man with that unfortunate name. In my case, however, to be Miked is to have a man flirt with me, express interest in me, tell me how very much he likes me and would love to date me, but then follow it with a "but I'm dating someone else at the moment; so sorry about that, really."
So enough with the Mikes. Amy's a wise woman, obviously. Too bad I actually owe one of those Mikes an email reply yet tonight...
Since I'm in a bit of a funk about my second Miking and actually don't have much else to say, I thought maybe I'd try something that the
Funky Brown Chick
did recently. She writes about dates and dating even more than I do**, and last week she decided to put out a
call for questions
about her dating life. Anything we wanted to know, she would
answer
. Maybe it's presumptuous of me to assume you want to know
anything
about my dating life, but since I do from time to time get e-mails and comments asking, "What ever happened with...?" perhaps there might be at least
something
on your minds. So ask and I shall answer. What do you want to know about my dating life? Put a question in the comments or an email, and I'll answer it later this week.
By the way, it
does
occur to me to place some disclaimer here, reserving the right not to answer anything I deem just too personal, but I can't really imagine too many questions that would fall into that group. That wasn't a challenge, mind you. Go at least
sort of
easy on me, OK?
----------------------------------------------------------------
** Which I would like to think is not

all

that often, as I never really intended to create a dating blog, but based on the number of dating-related search engine results I see in Sitemeter, it's obviously a frequent theme.
----------------------------------------------------------------