So am I the last person to hear about
Zabasearch
, or is this nifty little search tool new to you, too? A friend of mine introduced me to that site last weekend, and I quickly decided it's a fine and valuable supplement to Google for
routine, recreational sleuthing
. Want the last recorded address for any person you've ever known? Want a birth year along with that info as well? Zabasearch likely has it for you. Zabasearch even knows where I could stalk the "bird" half of
The Bird and the Bee
when she wraps up the tour she's now on. Incidentally, if her "people" are reading this, please know I'm just kidding. I promise I am not the stalking type. Had I not been listening to an archived in-studio performance on MPR's web site while I was Zabasearching (in preparation for the show I'm attending this week), it never even would have occurred to me to check that name. Since I
did
find her, however, I have to wonder how many other famous and semi-famous names might be on public record. Not that I tried to find any. Of course not. I have better things to do with my time. (
Riiiiight.
Moving on.)
I actually think it's much more fun to web-stalk non-famous people whom I
know
than famous people whom I don't, so naturally, I also asked Zaba about some long-lost names from my past, including my old friend Craig, on whom I had a recurring crush back in college. I've Googled Craig periodically over the years, just out of curiosity, wondering where he ended up, and I've never found any particularly informative results. Zabasearch knows where he is, though, and the Google link from that search actually led to a new, recent, relevant result: a wedding announcement from late last summer.
For some absurd reason, my heart actually sank a tiny bit when I read that announcement and saw the photo of my old friend with his smiling new bride. Did I think I was actually ever going to reconnect with him? Of course not. But there's something to be said for far-off silly fantasies tucked deep (or even not-so-deep) within your mind. They're harmless, if you ask me. Most of the time, anyway.
The last time I saw Craig was the weekend he graduated from college. I was in town visiting some friends (having graduated the previous year myself), and I ran into him on Water Street, the street-of-many-college-bars in my former college town. I hugged him, said "Happy Graduation," and asked what he was going to do next in life.
"I'm gonna find you, and MARRY YOU!!"
he slurred, with a dopey but charming smile on his face. Sigh. He was a drunken fool, but he was adorable. Unfortunately, that's not the sort of marriage proposal you can hold anyone to, so I just have to wish him and his little blond* wife well.
----------------------------------------------------------


* This has nothing to do with the rest of my post, but I have to ask it anyway. Am I the only one who apparently learned the word
blond
as
blonde
and still prefers to spell it that way? Dictionary.com and Merriam-Webster both indicate that
blonde
is an acceptable variant, but Firefox's red dotted lines disagree with me. But then, I
am
the girl who sometimes types her list parentheses backwards, so what the hell do
I
know, right? Still.
Blond

looks wrong to me. I much prefer the spelling with the "e."


----------------------------------------------------------
I don't think of Craig all that often, but it's funny the things that still always remind me of him. Someone utters the phrase "lactose intolerant," for instance, and I'll remember Craig trying to put a bad ass, powerful spin on a generally wussy-sounding affliction.
"I will not TOLERATE lactose!"
he once shouted with conviction, calling up the same spirit as political revolutionaries the world over.
And last week, when I was moving books from my tiny, old, inadequate particle board bookcases onto the larger, only slightly better quality ones I bought to replace them (as part of Operation
Get Fucking Organized Already
), I came across this, which was a gift from Craig on the occasion of my own college graduation (upon which I did
not
propose to him--either drunk
or
sober).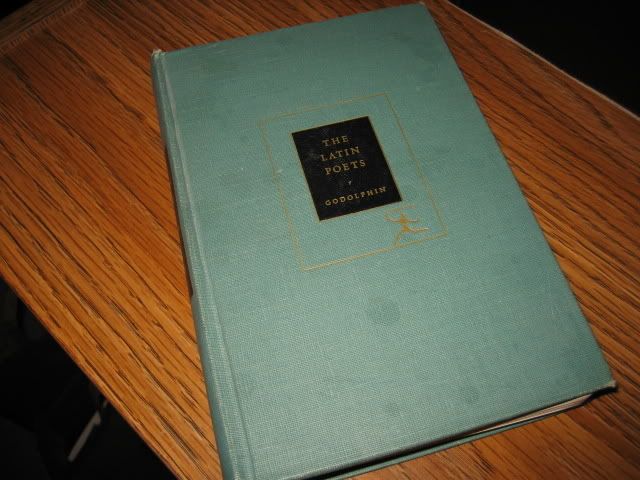 It looks like just an ordinary used book of Latin poetry--presumably a fine gift for a graduating English major. You have to check out the inscription inside, however, to see it was actually two,
two
gifts in one...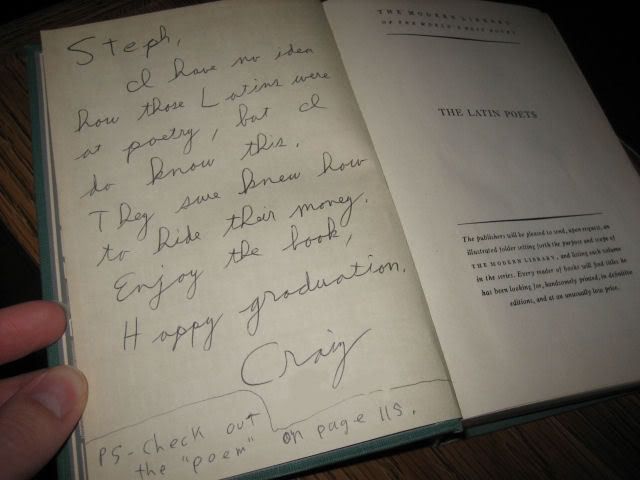 All right, so he couldn't remember how to spell my name, and I've known third graders with better penmanship. But let's look at page 115, as he requested, shall we?...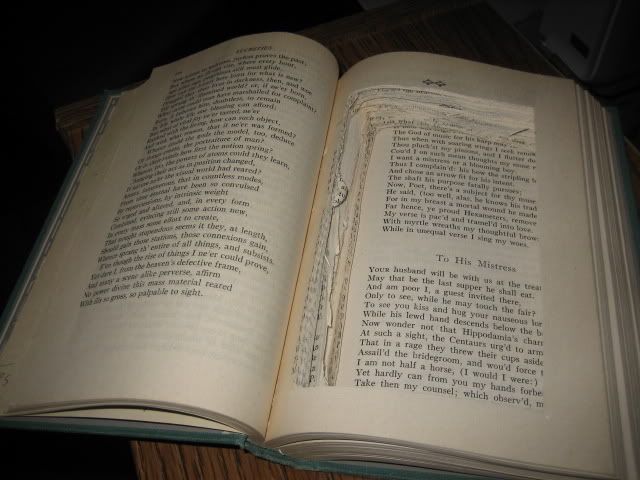 The dude made me my very own booksafe. And I have kept it, to this day.
Like I said, he was adorable. I only hope Blondy appreciates my almost-husband's fabulously dorky wit.