----------------------------------------
For an explanation of this alphabet theme, see my
first NaBloPoMo post
.
----------------------------------------
I bought my house when I was 29. I didn't do it the smart way... I didn't prepare for it and plan for it and save a respectable down payment like most responsible adults do. No, despite how terrible I am at
making decisions
, it was really almost an impulse buy.
My older sister had been nagging me for a while, saying, "You really should buy a house, you know. You're throwing money away on rent." To this day, I still say that is the most ridiculous argument anyone can present to a would-be home-buyer. I was not
throwing money away
on rent. In exchange for that rent, I was getting not only a place to live, but the security of knowing that if anything went
wrong
with that place to live, it was not my responsibility to remedy. Leaky faucet? Broken refrigerator? Snapped garage door spring? Someone
else's
bank account or man-hours were going to be drained to take care of it, not mine. Throwing money away? On piece of mind? Hardly. In fact, for my rental dollars, I even had someone else shoveling the snow, mowing the lawn, and raking the leaves
for
me. All for less than I currently pay for my mortgage. Without a house payment, only
one
of my arms would hurt right now (the one stabbed with a
tetanus vaccine
the other day), and I would maybe be able to afford cute new fall clothes. I mean, I like my house and all, but frankly that doesn't sound like such a bad deal.
I must have gotten tired of my sister's arguments, though, because I finally agreed to meet with her realtor friend. We started looking at houses even before I was sure I wanted to buy one, and about twelve houses in, I said, "Um, I think this one feels sort of right..."
I don't even know what in particular drew me to this house. It's nothing special, nothing fancy; it certainly isn't my all-time dream house. It's a basic little 1950 shoebox, but for some reason, I had a good feeling about it. It all comes down to gut instincts, right? My gut may be squashy and unreliable, but I trusted it and bought the house anyway. I even looked pretty happy about it, didn't I?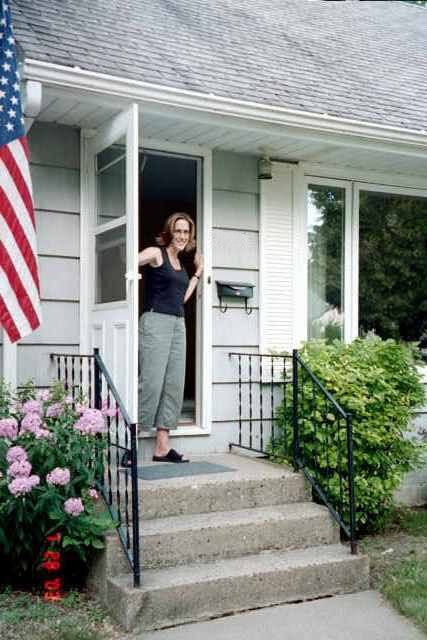 -------------------------------------------------------
Note: The American flag is not mine. It was gone before I moved in. And if you're worried about that scary roof with the dark streaks through it, I had it replaced as part of the purchase deal. And lastly, and perhaps most importantly, my oh my was my hair flippy back then!
-------------------------------------------------------
The house that I bought was built right on the cusp of when developers stopped injecting character into homes by default. I had hardwood beneath the carpeting and real, solid wood doors throughout the house, but I didn't have any rounded archways or built-in buffets or other fancy woodwork. My garage, thankfully, doesn't protrude from the front of my house as its most notable architectural feature, but it also doesn't have a charming carriage house up top.
Luckily, the previous owners left plenty of character behind to balance things out.
My house is 57 years old, and I am only its second owner so far. When I moved in, my neighbors to the north, a lovely old couple named Don and Lucy, gained the position of seniority on the block. They've been here since 1958. Ralph (who owned my house) had been here since 1950.
It's remarkable how much
stuff
I've accumulated in just ten years out in the world on my own--how many possessions (both pointless and not) I've carted from apartment to apartment to first house. Just imagine the amount of stuff one can accumulate in 53 years.
I'm sure Ralph's children spent a good deal of time clearing out this house after he died. I'm sure they spent full weekends reminiscing and divvying up and marking things for Goodwill. But they clearly got a bit lazy towards the end, because when I moved in, several remnants of Ralph were still here. And obviously I am just as lazy as they are, because four years later, several of those remnants still remain.
This was originally going to be a post about all the things I've learned about home ownership and maintenance, all the ridiculous moments of ineptitude I've had since I moved in. But frankly, that post is just not flowing, so I thought I'd just take you on a photo tour instead. I mean, I did damn near
break my toe
photo-documenting, so I might as well make use of those pictures, don't you think? So here we go.
First, we have the charming remembrances of occupants past that one would
expect
to find in an old house. Ralph raised two kids here, after all. It seems only logical that we'd see evidence of their growth marked on the walls...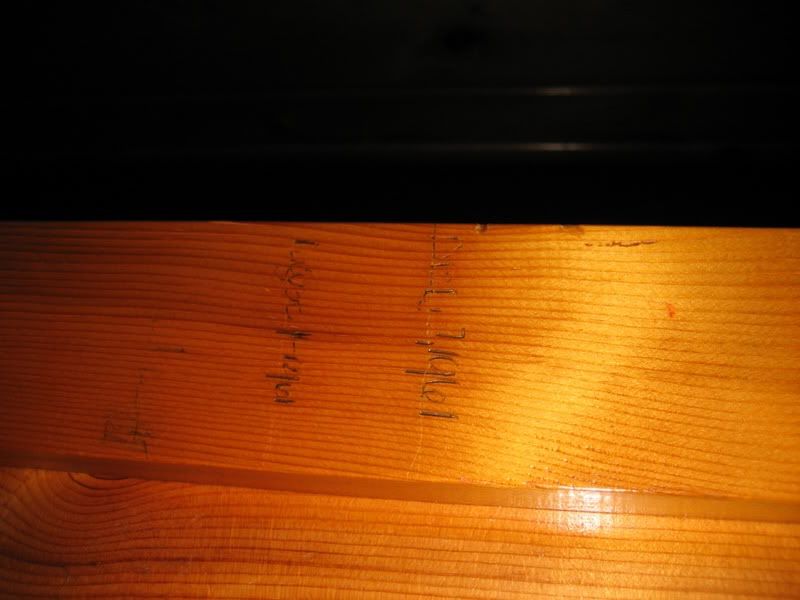 It's also sort of charming to learn about Ralph's unique quirks and obsessions. We're all tremendous nerds in some way or another. Ralph's area of nerdery must have been the weather (or at least temperature). My house came with no fewer than five thermometers. I can only assume there were several more
before
his kids started cleaning this place out.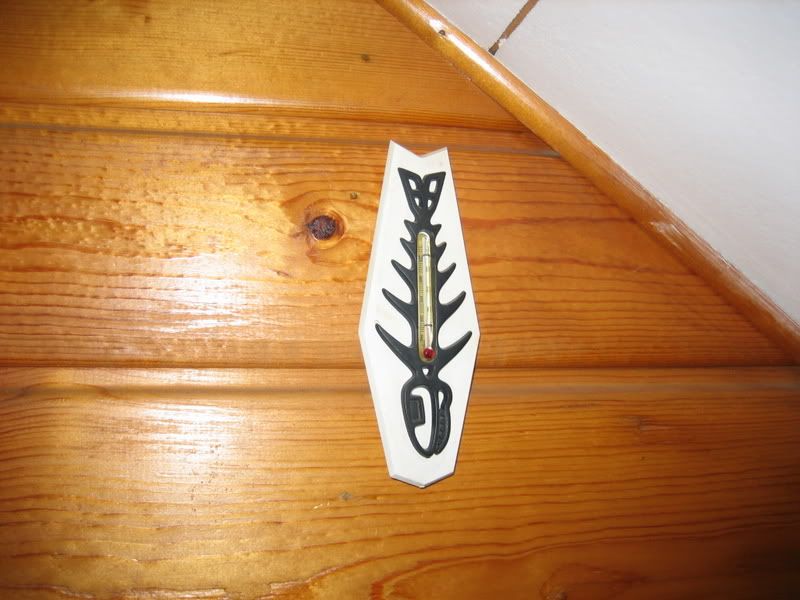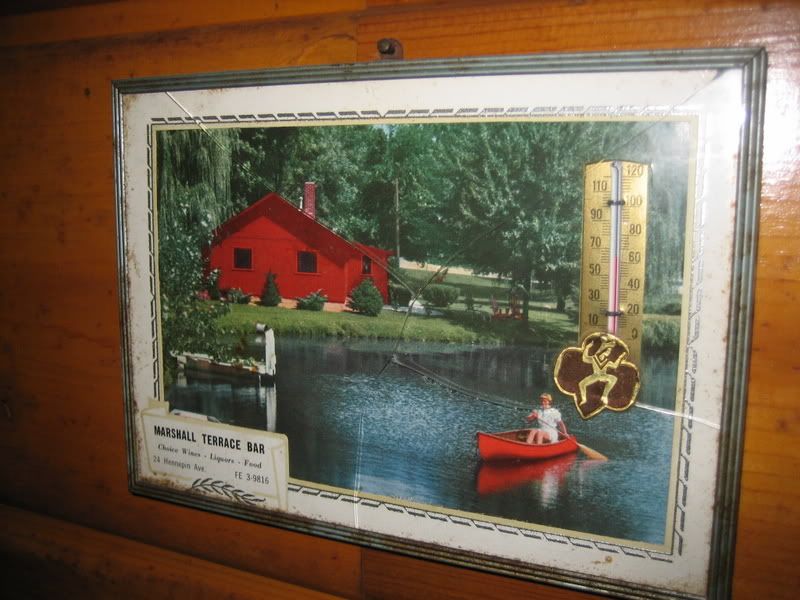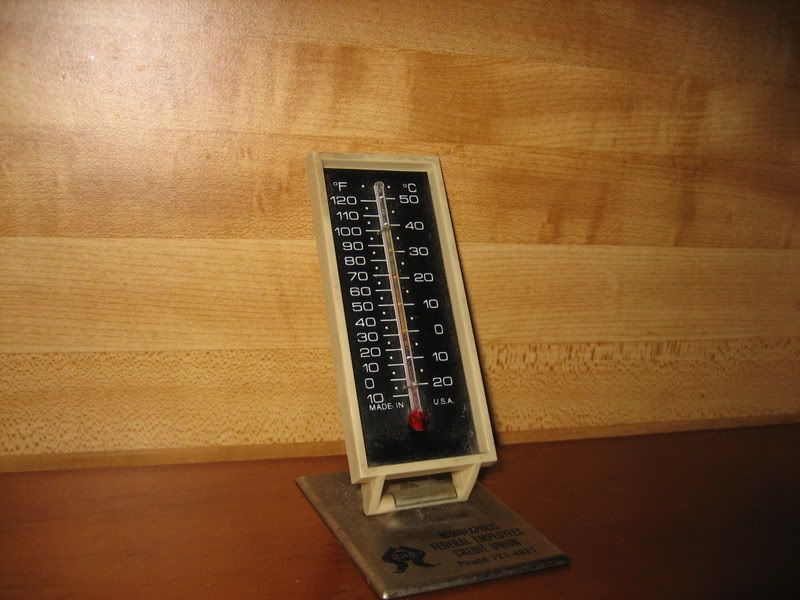 Then there are the things Ralph's kids maybe left behind by accident... Like the ice skates for some reason tucked away between the ceiling beams in the basement and the makeshift fishing rod (fashioned from what seems to be a table leg and a length of string) hidden behind a support beam...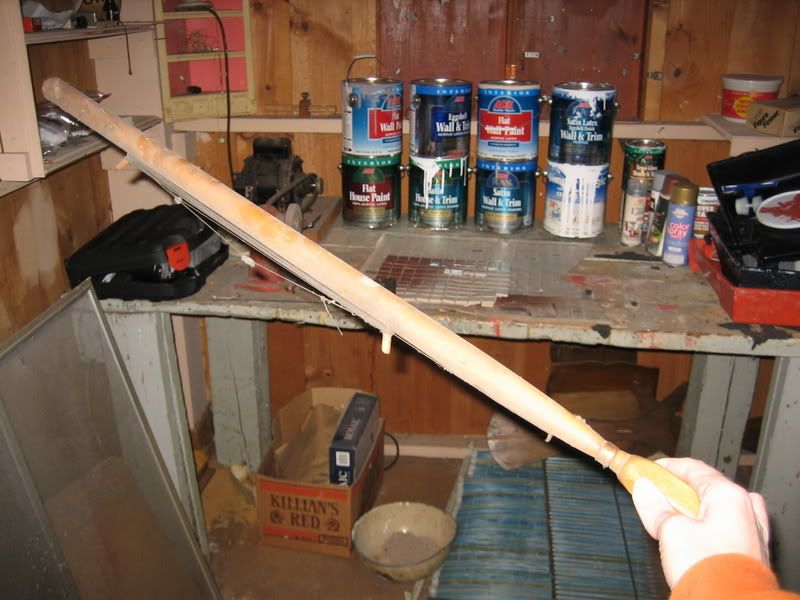 Behind that fishing rod, you can see Ralph's worktable. I would like to point out that only the paint cans and drill case in that photo are mine. EVERYTHING ELSE came with the house. Would you like to take a closer look? I thought so.
Do you need a golf ball marker? (Specifically one already set up to stamp the name "Ralph"?)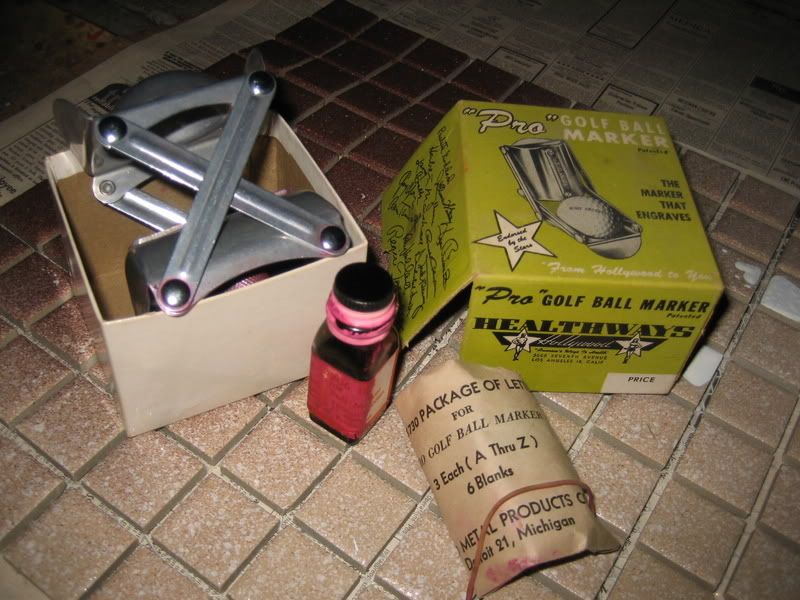 What about an envelope of keys that open lord only knows what?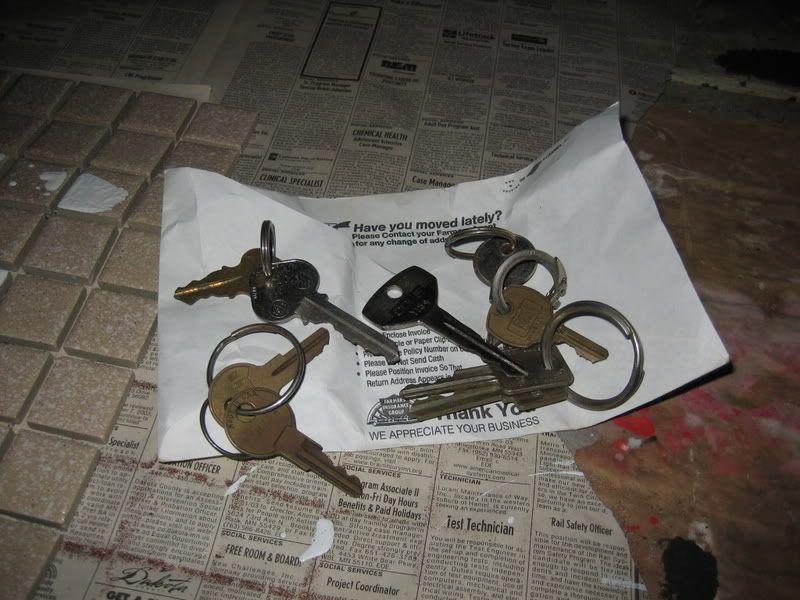 Or a motor of some sort... Do you need one of these?
If so, obviously I am your gal.
One thing that I wish
were
still on that workbench is the device that originally came in this box.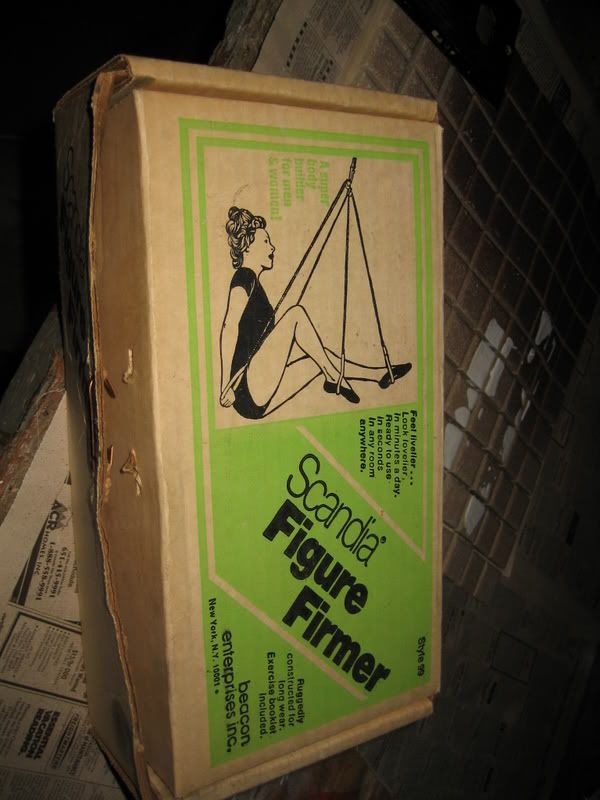 I mean, I could feel livelier! Look lovelier! Where, really, would be the fault in that?
Alas, all that was in that box was the faucet that presumably used to be installed in my bathroom sink.
I
could
make use of the exercise bike Ralph left behind in my basement, but as I'm lazy, I'm more likely to make use of the couch. Yes, they left a whole COUCH behind. And an awesome one at that, don't you agree?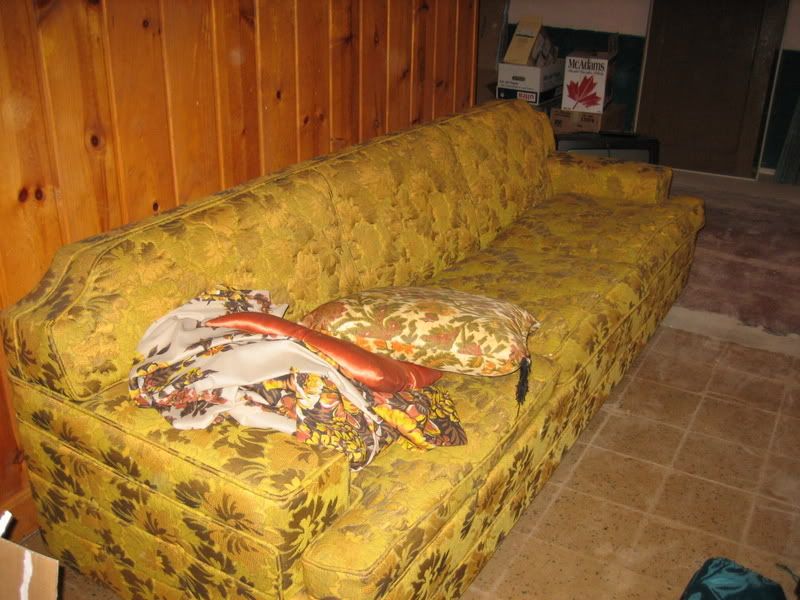 I'm actually assuming at this point that the couch is probably safe. I mean, if no rats or other critters have crawled out in the past four years, chances are none are still making their home in there. I have lofty dreams of overcoming my laziness and actually making something of my basement someday... of putting in some carpeting, throwing a clean slipcover on that couch, and creating a party room of sorts down there. There's actually a funky old bar and light fixture and a couple of leftover beer steins and bottle openers, too. Oh, and an old retro rotary-dial telephone. I actually really wish I could still plug this into a phone jack today.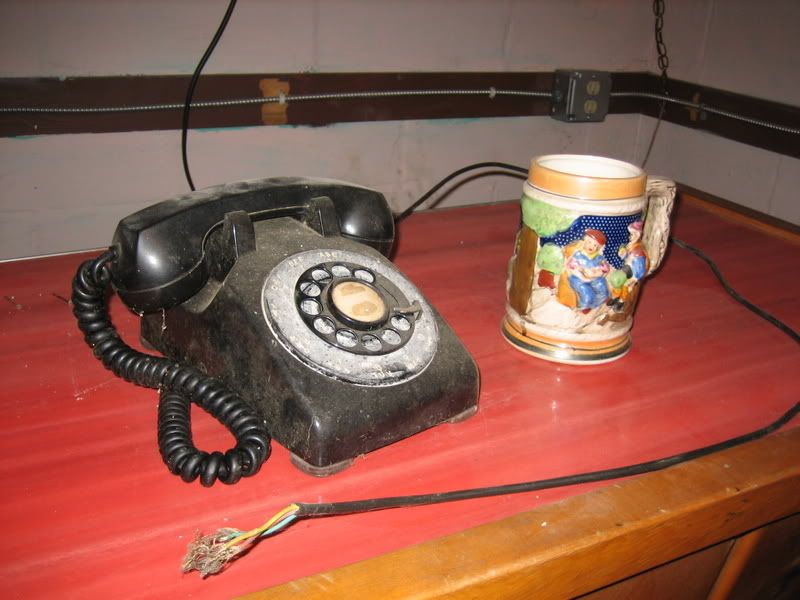 My house has even maybe suggested to me some new hobbies. I mean, I said I wanted to reclaim my
interest in art
... Perhaps whittling is the handicraft for me...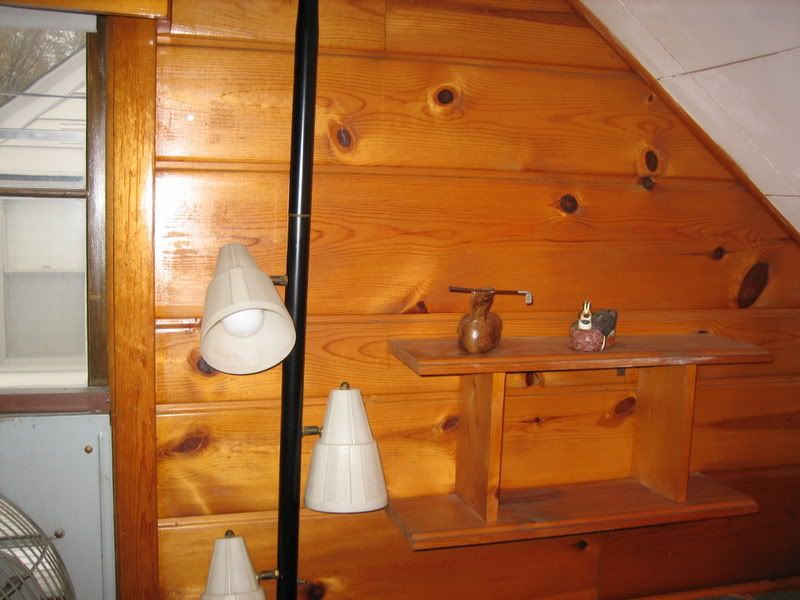 I have no idea who Willie is, but he does some fine work; wouldn't you agree?