----------------------------------------
For an explanation of this alphabet theme, see my
first NaBloPoMo post
.
----------------------------------------
W
is for
Wiggum
. As in
Ralph Wiggum
, who is, hands-down, my very favorite character on
The Simpsons.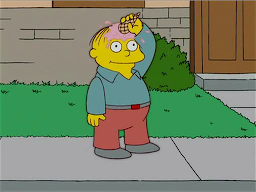 I have been a bit lapse in posting my usual
Friday Fives
lately (I'm in the middle of
a
theme,
people! And it can't always be enumerated in list form!), but I thought I would make this last post of NaBloPleaseNoMo* short and sweet (we're all weary of reading so damn many posts every day anyhow, right?) and finish the month off in brief five-point form.
Five of my favorite Ralph Wiggum quotes
That's where I met the leprechaun. He told me to burn things.


Oh boy! Sleep! That's where I'm a Viking!


Slow down Bart! My legs don't know how to be as long as yours.


When I grow up, I want to be a principal or a caterpillar.

And my personal favorite, from my favorite Ralph-centered episode (This Little Wiggy)...



The pointy kitty took it!


Speaking of
The Simpsons
, know what else starts with W? One of Homer's favorite phrases. No, not "D'oh!" of course. I'm talking about
Woo-hoo
! And that is what I say to the end of NaBloPoMo. It's been fun, but I am done.
P.S. I'll still be finishing the alphabet. I just wouldn't count on it until next week. Peace out.
--------------------------------------------
* Someone else penned this (or something very similar to this) yesterday, and I'm very sorry I don't remember which one of you it was. Claim credit in the comments if you like.



Update:

It was NPW! Thank you for that addition to the blog-lexicon, you clever girl.

--------------------------------------------