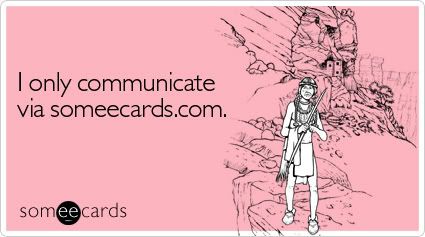 So by now we all know about
Someecards
, right? If not, you might not want to click that link unless you have an hour or so to spare. Don't say I didn't warn you.
I have sent many a Someecard to various friends already, but today
Erikka
and
Allie
gave me a way to send Someecards to all of you at the same time! Yay! I think this game has now passed itself along to enough people that it is officially a meme, which means that all of you should join in and play, too.
How? Easy. Just find five Someecards that describe yourself in
amazingly unflattering ways
. Here are mine.