I don't want to tell you who to vote for, but just remember...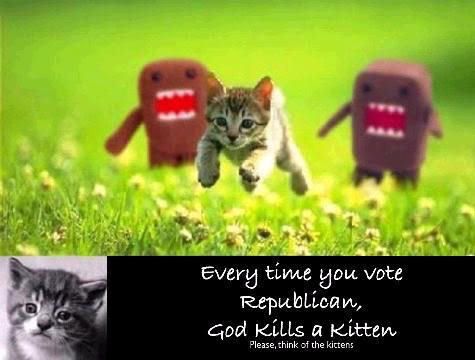 I'm sorry. That is just a little joke that you may or may not find funny*. Personally, I think it's hilarious, but I have been unintentionally offending people left and right these days, so clearly I am not necessarily the best reference point or judge. And really, I'm sure not
all
Republicans are evil. I'm sure there are some good ones out there... like... um... OK, to be honest with you, I am not as up on the specifics of this sort of thing as I should be, so I shall consult Google for help. Ever since
Maliavale
and
Nabbalicious
dubbed Google "
the new Magic 8 ball
," I have been fascinated by this idea and, in fact, am considering letting Google make all of my life decisions for me. So here we go. What does Google have to say?
Republicans are evil:
5,250,000 hits
Republicans are kind and pure of heart:
1,580,000 hits
Well then. There we have it. That's three-and-a-half to one. And Google knows everything, after all. Do not argue with
The Google
.
OK, that's enough of that. Frankly, no matter who wins what races and how soon we can send that deluded cowboy back to his ranch in Texas, I am just glad that the airwaves will no longer feature attack ad after attack ad, that my e-mail inbox will no longer be flooded with messages from every Progressive organization in the country**, and that I will soon be able to open my front door again without a flood of glossy candidate brochures falling out onto my porch.
Amen to that, newly regained Democratic majority or not.
--------------------------------------

* If you do not find it funny, that is completely and entirely OK. Do you have a blog? You do? Good. Go explain why it's not funny over there. I really don't get a lot of hate mail or nasty comments, and I'd sort of like to keep it that way. Thanks.

** I signed up for

two lists

! Two lists, and suddenly 17 others have my name as well and are sending me four new messages every day. Seventeen lists times four messages a day equals

way too many messages

to retain any impact or meaning. Enough, I say, enough!